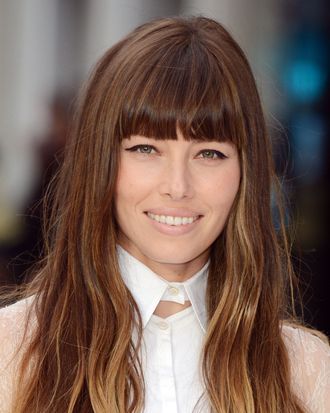 Photo: Rune Hellestad/Corbis
Though there are no pics from the Timbielake nuptials — only photos of Biel's invisible wedding band — Us Weekly maintains the actress did marry Dear Justin on Friday, wearing a pink-and-white gown:
On Monday, stylist Bobbie Thomas took to her blog to share what she had learned about Biel's look: that the star had selected a Giambattista Valli-designed dress with a "princess-like silhouette" for the ceremony, which took place at Italy's posh Borgo Egnazia hotel. (Thomas also reports that Biel's handsome groom, along with the male members of the wedding party, rocked Tom Ford suits.)
And on Monday night, stylist Bobbie Thomas took to her blog to delete that post. Let us in, Timbielake, let us in! At least tell us whether Biel wore a bridal bandanna.