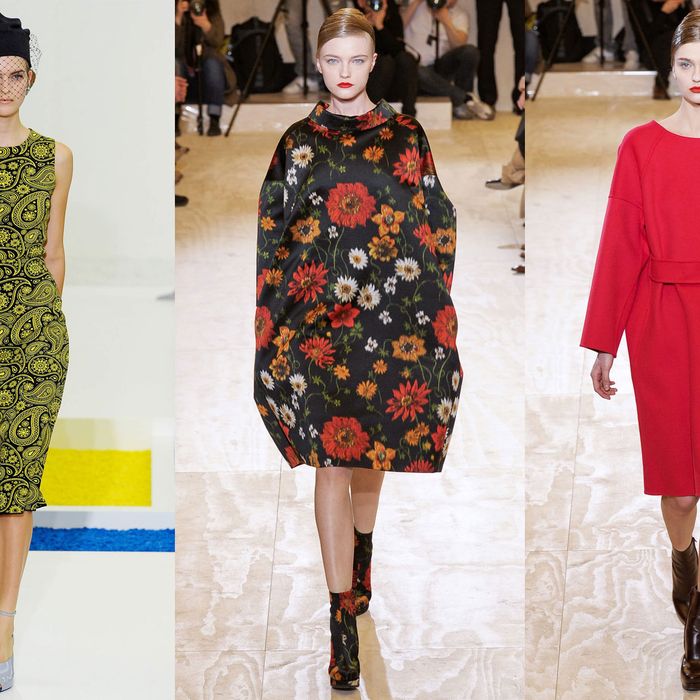 Walking into a sample sale is like entering an alternate universe: Once in it, all sense of time, self-awareness, and human decency disappears. The Jil Sander sample sale, which consisted of what is most likely the last we'll see of Raf Simons's designs for the label, was less crowded than most sales on a preview day, but still quite overwhelming. The hoarder mentality that automatically sets in is much harder to fully embrace when you're dealing with big belted coats, bulky sweaters, and multiple boxes of shoes, all the while holding your iPhone-cum-calculator in hand, because the discount is 80 percent off and who can really do math in their heads in such a moment?
The showroom is split by a table in the middle, which holds knits — everything from a Picasso sweater ($328) and a beaded polka dot crew neck ($356) to simple cardigans and pullovers. Everything starts in the $200 range and climbs from there. On the right side of the room racks are packed with fall 2011 items: assorted coats, the red wool belted dress ($596), floral silk dress ($1250), blue silk bubble skirt ($396), and lots of the brand's signature dresses. On the left side of the room it's mostly spring 2012: the yellow paisley skirt ($248), neon and white crop top ($282), and the floor-length white dress ($980) Leelee Sobieski wore to a Tribeca Film Festival party are all there.
The shoes, which are at the end of the room, are the best deal. They're well-guarded — you have to ask to see each shoe, and are forbidden from making a mess by rustling through them yourself. But you'll get away with paying in the $50-to-$150 range for wedges, flats, and heels. They're going fast, however. According to one of the employees, the flatform sneaker boxes, which originally started at waist height, were only two boxes tall a few hours later. Next to the shoes are bags — but by 2 p.m. this afternoon, the selection was very sparse, unless you're into clear plastic totes.
There is no changing room, so modesty takes a back seat in front of the two mirrors propped against the table holding bags. This is a particular challenge if your pants are falling down and you're on the phone with a colleague trying to calculate the price of a beaded silk shell, protectively clutching wads of clothes, and attempting to secure a pair of slingbacks. Bottom line: This is not a place to multitask. If you're willing to spend a good amount of money — and you'll have to — go in with a mission and godspeed!