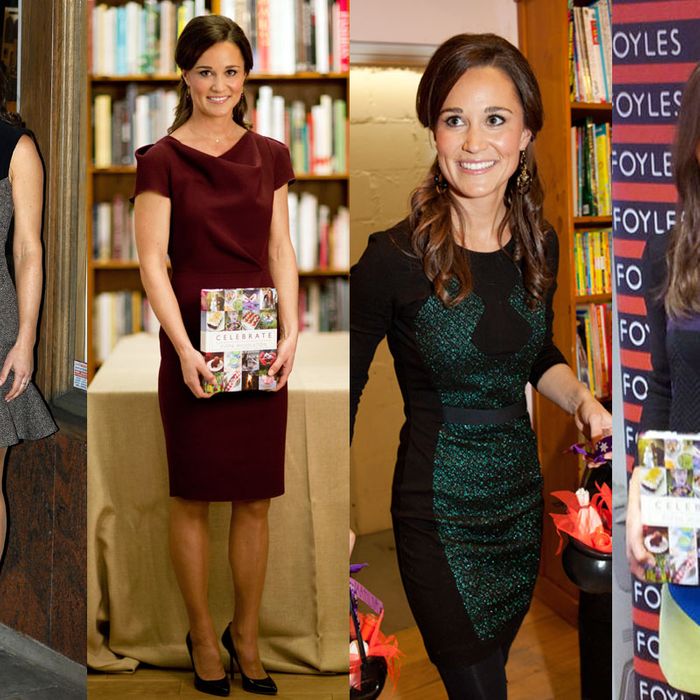 Photo: Getty Images, Getty Images, Corbis, Foyles/Twitter
Pippa Middleton had a busy day yesterday promoting her new party-planning book Celebrate, attending four different launch events across London. She started at the city's famous Foyles bookstore, wearing a geometric-print shift dress from Paper London. Followed by eight camera crews, she then moved closer to home at a store on Fulham Road — arriving in a draped Roksanda Ilincic dress with an exposed side zipper. Then she quickly changed to a glittery frock by Markus Lupfer for a pre-Halloween event with some children who didn't seem that impressed by someone closely related to their future Queen. In fact, one impertinent little girl even told Pips she didn't like princesses.
With one more change in store (this time into a tweedy Stella McCartney dress), Pippa later attended Celebrate's official launch party. Both the Middleton parents and brother James came along offering support, but not older sister Kate. Perhaps she was already back at the palace prepping a recipe from the book for Prince William's dinner. My invite to the evening's event was also lost in the mail, but that's okay because I have a signed copy of Celebrate already. Today I followed Pippa's painstaking how-to guide to make my morning cup of tea — it's amazing I coped before this book was released. Stay tuned for more magic from the quintessentially British entertainment bible.