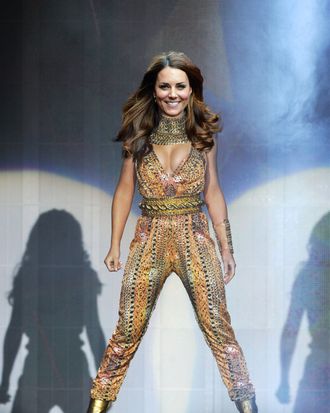 Kate's jumpsuit-wearing alter ego.
Photo: Photos: Getty Images
Kate Middleton's bachelorette party — or, as the Brits adorably call it, "hen night" (use it today and feel trendy!) — was reportedly low-key, Dirty Dancing–themed, and held at her parents' Berkshire home. But now, over a year after the fact, a fascinating new detail about the evening has been released: Apparently Kate dressed up as British pop star and sparkly jumpsuit enthusiast Cheryl Cole and performed a song! All is revealed in Cole's new autobiography, Cheryl: My Story, in which she writes:
Kate confessed that she dressed up as me on her hen night, in a bodysuit and split trousers, and sang Fight For This Love… She even learnt the dance routine and was step-perfect by all accounts, as her sister Pippa and brother James also came over and told me all about it.
Apparently Prince William first spilled the beans about Kate to Cheryl at the Queen's Diamond Jubilee concert back in June. But much more important, there must be video of this somewhere, or at least pictures, and what better time to release them? Nothing would distract the public from grainy nude photos like a home video of Kate's dance moves, after all.