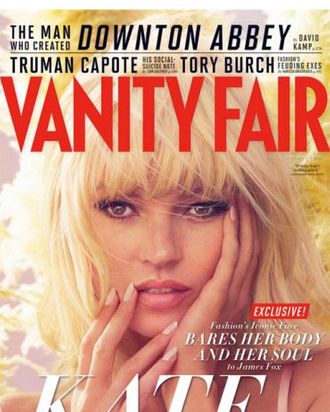 Kate Moss.
Photo: Vanity Fair
Kate Moss once said that she wouldn't write an autobiography because she "can't spill the beans … not for a long time." But you can't be on the cover of Vanity Fair without tossing out a juicy bean or two, so she was more forthcoming than usual for her profile in the magazine's December issue. It's hardly a spill, by any means, but she did admit to crying in the bathroom when she had to pose nude as a teenager and having a mental breakdown after her famous topless shoot with Mark Wahlberg. "I couldn't get out of bed for weeks," she said. "It was just anxiety. Nobody takes care of you mentally."
She also clarified a few things about her role as the face of heroin chic in the nineties:
I had never even taken heroin — it was nothing to do with me at all … I think Corinne [Day] — she wasn't on heroin but always loved that Lou Reed song, that whole glamorizing the squat, white-and-black and sparse and thin, and girls with dark eyes.
Notice that she says "had never" — past tense. Read on for all the other lessons she offers up in the profile.
She looks awkward in party photos because she's not in the "zone."
I'm terrible at a snapshot. Terrible. I blink all the time. I've got facial Tourette's. Unless I'm working and in that zone, I'm not very good at pictures, really.
John Galliano helped calm her bridal jitters.
On my wedding day, I'm like freaking out, obviously. "You've got to give me a character." And [Galliano] said, "You have a secret — you are the last of the English roses. Hide under that veil. When he lifts it, he's going to see your wanton past!"
She had a mental breakdown after her topless shoot with Mark Wahlberg, and was deprived of her Valium prescription by Mario Sorrenti's mom.
I had a nervous breakdown when I was 17 or 18, when I had to go and work with Marky Mark and Herb Ritts … It didn't feel like me at all. I felt really bad about straddling this buff guy. I didn't like it. I couldn't get out of bed for two weeks. I thought I was going to die. I went to the doctor, and he said, "I'll give you some Valium," and Francesca Sorrenti [Mario's mother], thank God, said, "You're not taking that." It was just anxiety. Nobody takes care of you mentally.
She would cry in the bathroom when she had to take her clothes off for shoots at a young age.
I see a 16-year-old now, and to ask her to take her clothes off would feel really weird. But they were like, If you don't do it, then we're not going to book you again. So I'd lock myself in the toilet and cry and then come out and do it. I never felt very comfortable about it. There's a lot of boobs. I hated my boobs! Because I was flat-chested. And I had a big mole on one. That picture of me running down the beach — I'll never forget doing that, because I made the hairdresser, who was the only man on the shoot, turn his back.
She wasn't anorexic, she was just hungry. And the only person who fed her was Carla Bruni.
I was thin, but that's because I was doing shows, working really hard. At that time, I was staying at a B and B in Milan, and you'd get home from work and there was no food. You'd get to work in the morning, there was no food. Nobody took you out for lunch when I started. Carla Bruni took me out for lunch once. She was really nice. Otherwise, you don't get fed. But I was never anorexic. They knew it wasn't true — otherwise I wouldn't be able to work.
She cried a lot when she broke up with Johnny Depp.
There's nobody that's ever really been able to take care of me. Johnny did for a bit. I believed what he said … Like if I said, "What do I do?," he'd tell me. And that's what I missed when I left. I really lost that gauge of somebody I could trust. Nightmare. Years and years of crying. Oh, the tears!
The term "get Mossed" means to get crunked and party all night in some crazy place when, honestly, you just meant to go out for one drink, promise.
People that don't know me get Mossed. It means, I was gonna go home, but then I just got led astray. In the best possible way, of course. I mean, it's always fun, and a good time.
But sadly, she doesn't really get Mossed much now that she's a dog-owning married lady.
I don't really go to clubs anymore. I'm actually quite settled … Living in Highgate with my dog and my husband and my daughter! I'm not a hell-raiser. But don't burst the bubble. Behind closed doors, for sure I'm a hell-raiser.
Related: Kate Moss Did Some Hilarious Things Last Night