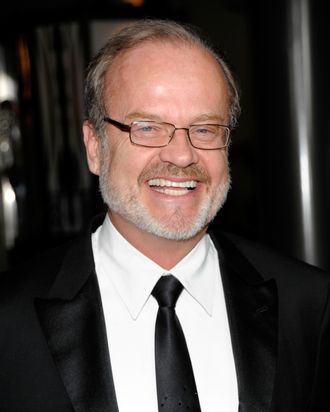 Photo: Dan Steinberg/Corbis
Kelsey Grammer would like you to know there's absolutely nothing wrong with him and wife Kayte taking their 4-month-old daughter Faith to a noisy and silicone-filled party at the Playboy Mansion.  Sure, it offers TMZ the opportunity to write headlines like "Kelsey Grammer's Baby PASSED OUT at Playboy Mansion" (photo evidence included) but what can you do about the tabloids these days? It's not like either could have stayed home with the baby when they'd put so much effort into their respective looks: store-bought vampire costume and sexy witch post-rhinoplasty.
Grammer tells the Post: "Kayte is breast-feeding and we do not have a nanny or a trusted babysitter at this time, so Faith goes everywhere with us. We enjoyed the party with a few of our friends, the baby slept as her ears were covered the entire time, and we left shortly after midnight." In fact, the proud parents even took business cards from between the moist, fake breasts of three erstwhile Playmates looking for work as nannies during the evening.
He signed off his statement with a nonsensical lullaby: "The world is round. All our eyes are blue. Happy Halloween and Cock-a-doodle-doo!" just to let you know he's thinking about Faith always. Faith … and nipple tassels.