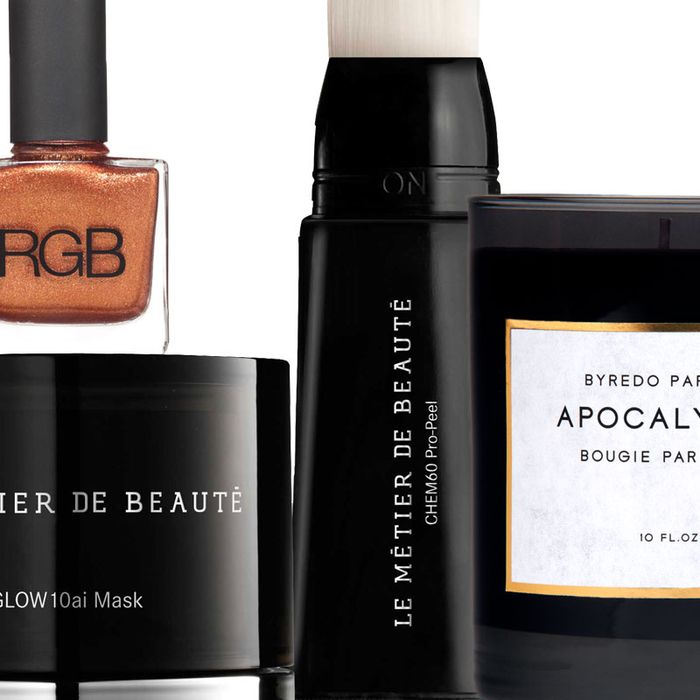 Each weekend I test out a few of the many beauty products to hit my desk, so you don't have to.
Le Metier de Beaute CHEM60 Pro-Peel & GLOW10ai Mask Set ($265, Neiman Marcus):
This two-part process promises luminous skin in just under 25 minutes. Step one involves a quick wash-off with a clear ointment of glycolic and salicylic acids to exfoliate and hydrate skin. That's the painless part. Step two asks that you smear your entire face with a thin white mask that looks like Elmer's Glue but smells like something much worse. Which means for the twenty-or-so minutes you need to keep the mask on, you might be in stomach-turning agony. The potent gloop, loaded with a complex mix of antioxidants, hydrators, and exfoliators, might be worth it. The second you peel it off, you'll look like you're 8 years old again. Your cheeks will radiate an I-just-did-ten-jumping-jacks kind of glow.
Byredo Apocalyptic Fragranced Candle ($80, Byredo):
Ben Gorham's latest addition to his Byredo fragrance line is a candle inspired by various scholars' obsession with the Mayan calendar and the premonition that the end of the world is nigh — like December 21, 2012, nigh. So now you can spend these last couple of months on earth smelling Gorham's interpretation of fire and brimstone. If you've ever been to an incense-burning church service, it smells kind of like this candle. Notes include black raspberry, oak moss, papyrus, birch woods.
RGB Copper Nail Polish ($16, RGB Cosmetics):
One of the autumnal additions to Gina Carney's nail-color line includes this rich, caramel-like copper. One coat gives nails a subtle wash of metallic, but add another and you'll get full-impact shine. Like Hershey Kisses' seasonal Pumpkin Spice candies. Yup, those do exist.