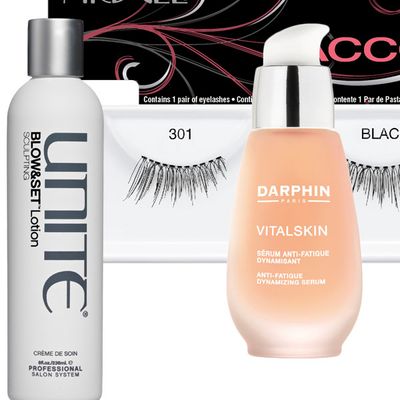 Each weekend I test out a few of the many beauty products to hit my desk, so you don't have to.
Darphin Anti-Fatigue Dynamizing Serum ($88, Darphin): The immediate reaction after hearing this product's name usually goes like this: Yes, please. Loaded with vitamin C and caffeine, the clear liquid is meant to slowly release its rejuvenating powers over an eight-hour period. Which means if you apply one pump in the morning, you'll supposedly erase whatever happened last night from your face. After a weekend of bridesmaid's duties, my skin doesn't appear any less tired, but the serum's subtle mandarin scent and the gorgeous, matte glass bottle are enough to keep it in my arsenal. For everyone else, drinking eight glasses of water will probably do the body good … enough.
Ardell Accent Lashes #301 ($5, Walgreens): Makeup artists rave about Ardell lashes and usually have various types stocked in their kit, but upon first glance, they look rather outdated. Compared to fancier lashes — by brands like MAC and Shu Uemura — with their sleek packaging, Ardell's plastic casing resembles something your mom might have worn during her disco days. On the upside, after 40 years of being in business, the brand is great at explaining the products to users: Their website, unlike other brands, explains which lash is best for each eye shape. And these Accent ones, great for playing up the outer corners of eyes, were a perfect fit, as recommended, for my almond-shaped lids. My own mom didn't even notice I had them on — until I ripped them off at the end of the night.
Unite Hair Blow & Set Lotion ($26.25, Unite Hair): Protecting your hair before you apply heat is recommended, but it often ends up feeling greasy. Not so with this lightweight styling product, which immediately absorbs into follicles. Applying a dime-size amount to damp locks will smooth ends, even without the help of any hot air. Once blow-dried in, hair seems stronger and has a flippy swing to it that lasts all day. The only deterrent might be the melon scent, which becomes a bit Bath & Body Works upon application.