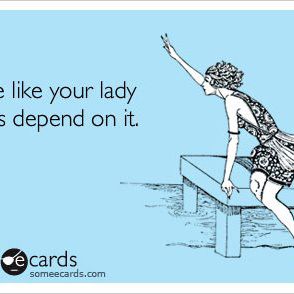 Whichever aide runs the Obama campaign's Tumblr came under fire yesterday for reblogging a DIY SomeECard that said, "Vote like your lady parts depend on it." The Drudge Report picked it up, kicking off a round of the Twitter telephone game that ended in conservative tweeters railing against President Obama himself for "saying" that women should vote "with" their "lady parts," a sentiment they found "disrespectful," "classless," and "demeaning"! There's a jobs crisis, they said, and real women vote with their brains.
Social media optics aside, President Obama's interview with widely circulated women's magazine Glamour, out today, gives a much clearer picture of how the president addresses female voters and it's … surprisingly conservative. A far cry, anyway, from the marginally vulgar, Daily Show aspirant liberal humor in the "controversial" e-card.
The president headlined unemployment, admitting that women are having a harder time regaining jobs than men (due in part to large layoffs in state governments), and tooted the Lilly Ledbetter horn before outlining his plan and his opponent's plans for recovery. "His premise is that the market will take care of everything else," Obama said, "I believe the way we're going to grow a strong economy for everybody is … [by] balancing our budget in a responsible way so that we're asking the wealthiest Americans to do a little bit more even as we're cutting out programs that don't work."
When asked by a reader why he has failed to address the legislative war against Roe v. Wade underway across the country, President Obama simply noted that all that was going on at the state level. But where he has impact, at the federal level, he's keeping Planned Parenthood federally funded, because it provides important stuff other than abortions. 
Ditto gay marriage. Although President Obama personally attested to his support for gay marriage, his condemnation of the Defense of Marriage Act was couched in state-versus-federal government rhetoric. "Historically, this has been a state issue, and for the federal government to intrude in this way, which is contrary to tradition, indicates that this is specifically targeted against gays and lesbians without a very good public policy rationale."
Even his riff on contraception concluded with, "It's also an economic issue."
No lady-parts talk here. And on that note, we'd like to wish the president and the first lady a happy twentieth anniversary!