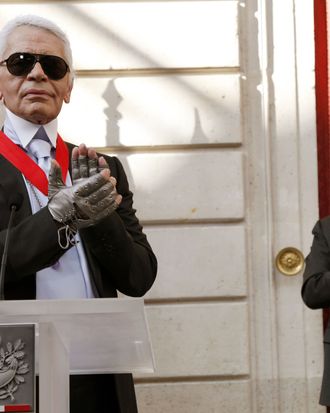 Upon reading in Marie Claire Spain that Karl Lagerfeld referred to François Hollande as an "idiot," Real News Websites spent Friday having freakouts of varying intensity, while the fashion world group-yawned; however, if you (Valérie Trierweiler) or someone you know (your boyfriend) were shocked by what could have been one of the designer's more banal comments, calmez-vous, because Karl was misquoted. From AFP:
"Obviously I did not say that. So I don't have to apologise because I didn't say it," the Paris-based German designer told France 2 television.

"Unfortunately I do not speak Spanish, so I don't really know what they said," said the quirky creative director of French fashion-house Chanel.
Marie Claire Spain's editor-in-chief Joana Bonet also took Karl's side, telling WWD, "I confirm that the declaration (and the word 'imbécil') was taken out of context. Karl Lagerfeld was referring to Hollande's policies, especially those connected with the taxes pertaining to large fortunes."
So, what does Karl think of Hollande, the man? On France 2, the designer remarked, "I saw him on TV and I found him very fun, spiritual, and intelligent," stopping short of calling him a "famous beauty."