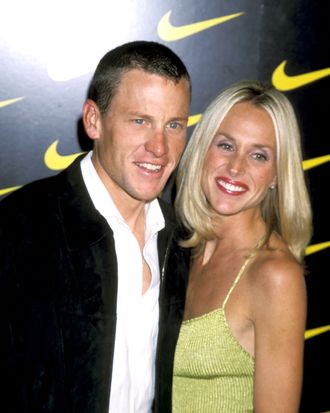 Photo: Jim Smeal/WireImage
The Wall Street Journal's review of evidence against Lance Armstrong released by the U.S. Anti-Doping Agency reveals that the wives and girlfriends (hereafter referred to as "wags") of the U.S. Postal team members served as a sort of doping den mothers for the cyclists.
The wags traveled and lived with the team throughout Europe during the season, shacking up in a small apartment complex in Girona Spain where, according to one wag, "You can't go outside without seeing a wife, a rider, a girlfriend, a soigneur, a director, a team car … " They were all so chummy that everyone knew where the Armstrongs kept their stash of the synthetic blood boosting hormone EPO.
"In a sworn affidavit, former Armstrong teammate Jonathan Vaughters said [Armstrong's then-wife] Kristin Armstrong referred to the synthetic blood-boosting hormone EPO as 'butter,' because the banned drug was kept in the couple's refrigerator. The code word, according to Vaughters, was used as a precaution against French law enforcement."
He also said that "Kristin Armstrong wrapped tablets of cortisone, a banned substance, in tin foil and handed them out to riders." Kind of like how your mom gave out orange slices at your soccer games.