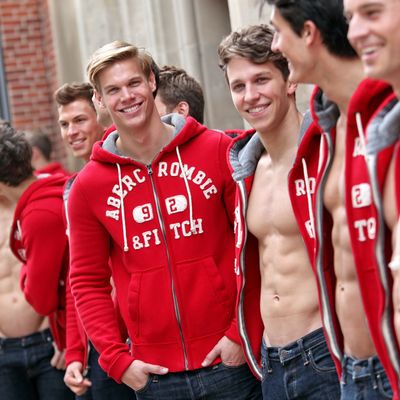 Fifty-five-year-old pilot Michael Bustin filed an age-discrimination lawsuit against 68-year-old Abercrombie & Fitch CEO Mike Jeffries, alleging he was unceremoniously booted from flying Jeffries's private jet and replaced by a younger man. As part of his suit, he provided an "extraordinarily detailed aircraft standards manual" detailing the extent of Jeffries's prep-fetishized in-flight experience:
"Male [model] flight crew are told to present themselves clean shaven in a uniform of Abercrombie polo shirts, boxer briefs, flip-flops and gloves (black for when handling silverware and white for laying the table) … and [wearing] a "spritz" of the retailer's own brand aftershave."
Pants are, presumably, not needed — and no coats, sweaters, or even the quintessentially A&F hoodies are allowed either, unless the temperature onboard drops below 50 degrees, at which point, erect nipples become a health and safety risk during turbulence. Flight attendants must seat Jeffries's pets just so and respond to all in-flight requests with the phrase "no problem," or there will be a problem. Possibly the most twisted requirement, however: that Phil Collins's "Take Me Home" play during takeoff.