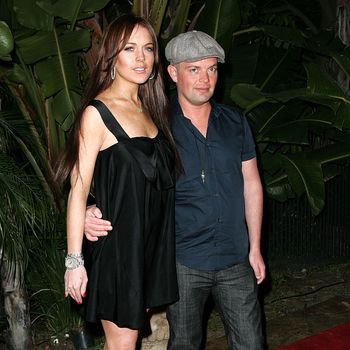 Photo: Jason LaVeris/FilmMagic
Lindsay Lohan's dust-up at the W this weekend introduced the world to Christian LaBella — the Paul Ryan–loving former Republican congressional staffer who is allegedly willing to get rough with a famous woman for cell-phone proof of their encounter. Every generation gets the tabloid villain it deserves.
But it also marked the return of a familiar face on the starlet-meltdown beat: Claus Hjelmbak, the booker who arranges European endorsement deals for American celebrities and was ubiquitous throughout Britney Spears's chaotic, shaved-head period.
Hjelmbak was witness to the scuffle between Lohan and LaBella at the W Saturday night, which is where the Cut reached him this morning, sleep-deprived and about to depart for a flight back to Los Angeles.
"It's so bad at the hotel with all the journalists," he said. Still, Hjelmbak was eager to give this one a comment about the Lohan drama because he's "outraged" that the original charge against LaBella, misdemeanor assault, has been dropped.
"I was right there when Ms. Lohan was being choked and attacked," he said. "It concerns me if this man is not going to be held accountable for his actions. It has come to my attention that he has posed with other celebrities and politicians — I'm just afraid that there's some kind of obsession. I'm concerned with Ms. Lohan's safety, with him making that much of an effort to insert himself in her circles."
In Vanessa Grigoriadis's 2008 profile of Britney Spears, Hjelmbak is the good-looking Dane in a "Fuck Rehab" T-shirt who arranged Spears's 2007 New Year's Eve appearance at Pure (she passed out) and 2 a.m. visit to Los Angeles boutique Kitson (she was photographed in fishnet tights and without a skirt), before trying to get Rolling Stone to pony up $2 million for an interview. 
Asked if Hjelmbak had learned anything about celebrity security from his time working with Britney Spears — at the time, Spears was hanging around paparazzo Sam Lutfi — he said he knew how to "spot people who have bad intentions."
"But once in a while, they slip through," he said.
Hjelmbek first met LaBella when he joined their party at the lounge at Catch restaurant Saturday night. LaBella was introduced as an "acquaintance of Lindsay's other acquaintances — which makes it even more spooky." Back at the W Hotel hours later, Lohan became upset with LaBella when she realized he was taking photos of her on his cell phone, which Hjelmbak claims to have seen himself.
"Any one of us would panic," Hjelmbak said, adding that Lohan never became aggressive or violent. "I would panic if somebody was documenting my night and e-mailing them outside."
The Cut asked why Lohan so often seemed to be embroiled with shady tabloid agitators.
"Well, it's almost like no matter what people say and do, they will believe them," he explained, "because Lindsay has had some unfortunate things happen in the past.
"I hope that a physical attack like this won't be just another Lindsay Lohan story, but that the public and the authorities will actually take this seriously as a real attack. It's very upsetting. I've never had to confront someone physically, but the way he attacked her, I really had to stand up and be a man and help Ms. Lohan."
 "You know what the reality of it is? She's actually a really good girl, very sweet. I think people just take advantage of that."
As for his professional relationship with Lohan, Hjelmbak said that there are  a "bunch" of requests for her endorsement overseas. 
* Ed: An earlier draft erroneously said Spears dated Lutfi. Though Lutfi's role in Spears' life shifted, dating was not likely part of it.