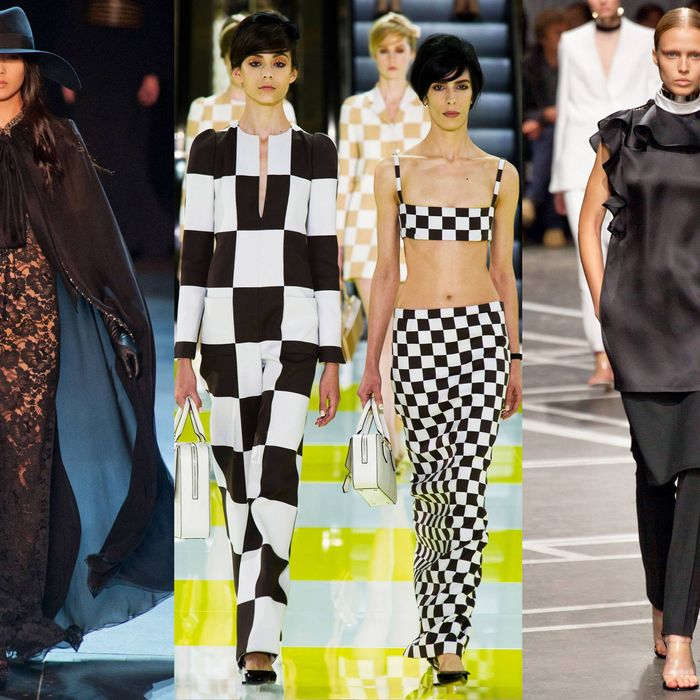 From left: Saint Laurent, Louis Vuitton, and Givenchy.
Photo: Imaxtree
It started in a blaze of heat in New York and ended with a chilly rain descending on the City of Light: The spring 2013 collections are finally over. Think of it: By the time these clothes are in the shops, the election will be long over, you'll be sick of the winter clothes you haven't even bought yet … how strange is life and fate? But enough philosophizing! It's time to put on your cashmere-and-marabou thinking caps and take our Paris Fashion Week Pop Quiz! Ready?
Q: What guy who falls into the 5 percent of people who manage to keep the weight off put wind turbines on his vast runway for no readily apparent reason?
A: Karl Lagerfeld, at Chanel, showing a quiet collection of frocks, sometimes topped with chopped jackets, the best of which feature oversize pearls, though an argument can also be made for the double-C maillot with the accompanying quilted beach bag, big as the state of Ohio.
Q: What daughter of arguably the most famous rock star of the twentieth century thinks you should embrace Issey Miyake Pleats Please–esque fabric?
A: Stella McCartney, who shows this incredibly difficult-to-wear material done up with a hot-orange swirl. Better to stick with her drop-waisted tuxedo dress, a lovely interpretation of "le smoking" that is smoldering on runways this season.
Q: What annoying creature, that all but the most avid nature-lover avoids like the plague, is the obvious inspiration for a stunning spring 2012 collection?
A: The buzzing bees who inform the McQueen runway by starring in a vaguely revolting film playing at the end of the catwalk and also supply their honeycomb-hives for patterns on spectacular bustiers in this remarkable show. Who could imagine that an ensemble consisting of tortoise corsets over glitter shorts and with over-the-knee lace-up hose could be so winning?
Q: What show features an organist seated in a big open box, banging away as a series of surprisingly demure ensembles grace the stage?
A: Givenchy, where the ruffly dresses (a trend we are deeply uncertain about) are held at shoulders and/or back with metal clips, a singular nod to the wild, hard-edged Tisci collections of the recent past.
Q: What designer's checkered past was clearly not the inspiration for the checked floor, checked exterior walls, and checked garments on the checked runway?
A: Marc Jacobs at Louis Vuitton, where the reference is to the house's Daumier pattern. Instead of descending from an authentic turn-of-the-century train, a spectacle from last season which really couldn't be topped (and wasn't), the ladies arrive via a huge escalator, as if in some Kafka-esque department store. The aforementioned checks showed up on garments that include jumpsuits (because you want a checkerboard jumpsuit?) and in hues from grey to lime. For my money (and actually it will take a considerable amount of my money), the sequined checked handbag is the best bet.
Q: What hotly anticipated runway show has many people, including this critic, terrified of writing anything that might be construed as the least bit mean, since this might result in her not being invited to this show ever again?
A: Saint Laurent, as Hedi Slimane has recently renamed the house. Okay, for the record: You enter a charmless black box somewhere in the upper reaches of the Grand Palais. If you are lucky, you are sitting on a hard wooden bench and not standing, as a number of editors are forced to endure. You watch a laser light show and some tricky business overhead with speakers. Then out come delightful suits with floppy-bowed blouses, graceful garments that promise great things to come. But soon you are overwhelmed by the droopy midnight-in-Marrakesh chiffon, the sad capes, and the floppy hats, which make the extremely thin, young-looking models (even by Paris fashion show standards) seem like proponents of Manson family values. Still, those first looks are magical. Please invite me again! I want to see more!