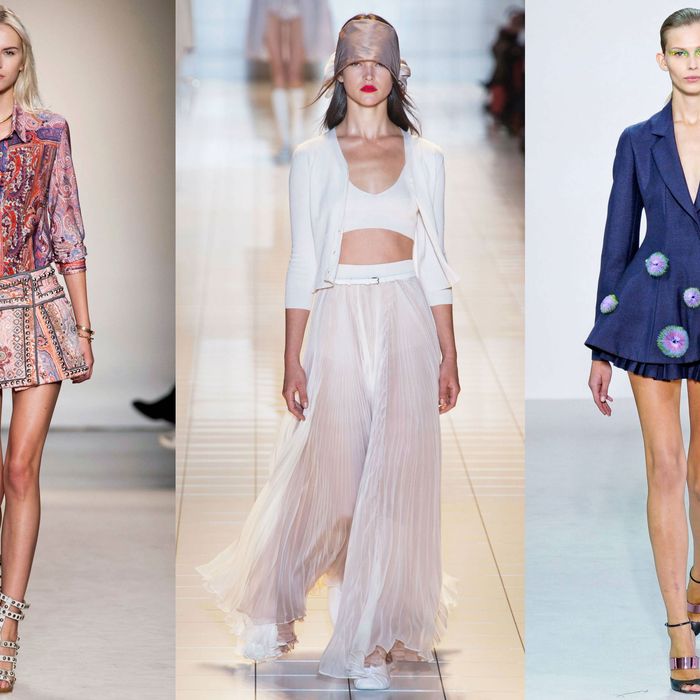 From left: new looks from Isabel Marant, Rochas, and Dior.
Photo: Imaxtree
Reports that people are eating out of garbage cans in Spain haunt the front page of the International Herald Tribune as models in the airiest of grunge-inspired creations stride the runway at Dries Van Noten. Silvery plaids cohabit with thick beading in austere hues of black and brown, before an audience of more than a few potential 47 percenters — for who among us can take job security for granted in these unsteady times?
The dense, almost funereal aroma of flowers that engulfed the Dior couture extravaganza in July, Raf Simons's first foray for the company, has been replaced by scentless pastel chiffon curtains separating the rooms at the show, where the monumentally assured offerings include short, puffy dresses over black shorts that might have been inspired by bike messengers, or Spanx. A series of jackets, some pleated, some beaded, are so seductive that all critical distance falls away, replaced by waves of pure desire.
Most runway shows this season, whether you are in New York, London, or Paris, have echewed traditional soundtracks (you know, what used to be called music) with tuneless clanging and beeping, so it's a relief to hear an actual song at Isabel Marant, even it is Elvis's Do the Clam from Girl Happy. The models suggest you do the clam, or whatever else you have planned for next spring, in tiny shorts and other garb printed with black and white tropical flora, or studded denim, or floaty little blouses. If you still don't get the message, some of the garments say "Aloha."
The Beach Boys, chopped up and deconstructed but still discernable, are on the loudspeakers at Rochas, but the offerings here are far too luxe for the grubby polluted beaches you're used to; these exquisite long pale pleated skirts and cropped tops — to show off an expanse of professionally tanned and buffered flesh — would rather be poolside at the Quisisana Capri.
Despite Ann Demeulemeester's intermittent reliance on papal purple, Gidget Goes to Rome is clearly not her inspiration. Which isn't to say that these mannequins, with their spooky long hair, their ankle-grazing hems, their leather halters, and above all the gossamer wings that start as sleeves and end up trailing the floor, don't exude a certain witchy charm.
And they are a veritable laugh riot compared to the Gloomy Gussies at Comme des Garçons. A sad sack in wildly discombobulated muslin opens the proceedings, schlepping down the runway at a glacial pace — she might be a battered bride, with a tin can headdress instead of a veil. She is joined by a coterie of creepy crawlers sporting what seem like identical ensembles (maybe the folds and shreds are slightly different?) and loony white Dynel wigs. It's all especially disappointing, coming as it does after last season's tour de force, when the flat paper-doll-esque felt coats and frocks had the audience almost apoplectic with joy.
Far more cheerful, despite his notorious personal reticence, is Junya Watanabe, who promulgates an accomplished collection of pieced bi-colored clothing made of nylon and mesh, the result of a collaboration with Puma, done up in combinations the dreamiest triathlon never imagined.