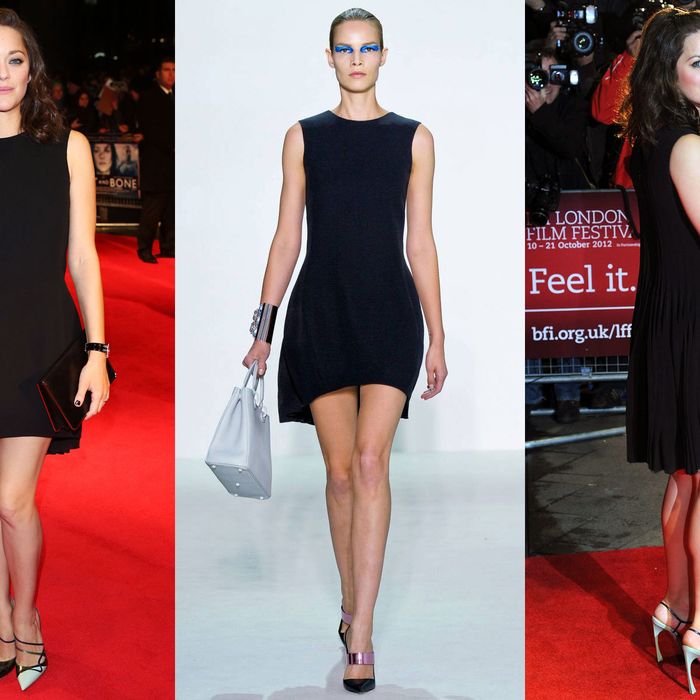 Marion Cotillard in Dior spring 2013.
Photo: Getty Images, Imaxtree, Getty Images
Just as Marion Cotillard debuted Raf Simons's Dior couture pieces in the wild, she got the honor of wearing his first ready-to-wear collection before everyone else as well (being the most senior Dior face, she gets first dibs). She wore a black sleeveless dress with a V-cut back and mullet hemline to the premiere of her new movie, Rust and Bone, at the BFI London Film Festival on Saturday. While the dress looked alright, it was far from the most interesting piece, and thus a rather disappointing introduction. However, her shoes — with their thin straps, pointy toe, and distinctive curved heel — looked even better on the red carpet than they did on the runway.
Since these days we can't talk about Raf Simons at Dior without bringing up Hedi Slimane at Saint Laurent, how does Cotillard's red carpet appearance compare to Lady Gaga's much-discussed Saint Laurent pageant last week?
Related:
Confirmed: Lady Gaga Wore Fresh Saint Laurent to Visit Julian Assange [Updated]
Lady Gaga Wore Yet Another Saint Laurent Outfit