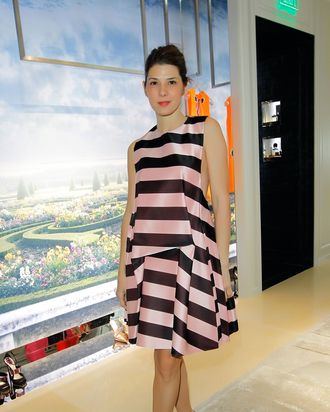 Marisa Tomei in Dior spring 2013.
Photo: Donato Sardella/WireImage
Over the weekend, Dior held a fancy preview event for Raf Simons's spring 2013 collection to celebrate the label's new Beverly Hills store. Models stood around in Simons's new designs, which won't be for sale for several more months, while guests gawked at them and talked about how much they wanted ehhhverything and wished they could have it nowww. Of course, it was a ripe moment for Dior to bestow one of Simons's dresses upon a movie star who wouldn't mind being in the same room as a model wearing the same thing: in this case, Marisa Tomei. She's the second person to go out in public in a piece from this collection, after Dior face Marion Cotillard, and her cheerful stripy outfit is decidedly more exciting than the black one Cotillard debuted a few weeks ago.
See the complete Dior spring 2013 collection.
Related: Marion Cotillard Is the First to Wear Raf Simons's First Dior RTW