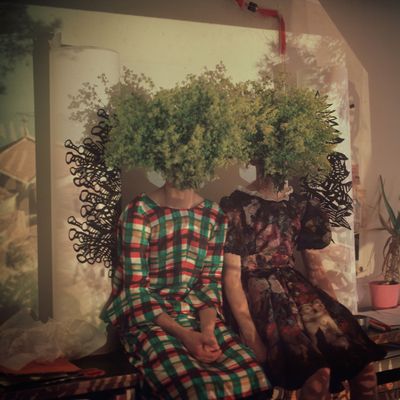 Affixed to Martina Hoogland Ivanow's refrigerator is a series of pictures taken by explorers trekking to the North Pole at the start of the last century. "Sadly enough, they died … but the film was found in the seventies," the photographer told the Cut. "And because of the cold, it was still intact, so they could process it. The images are just amazing because they hold so many layers of time — being cold, being hot, probably a little bit of light leaked into them. They have so many different layers in so many different ways." Though the AnOther and Dazed & Confused contributor, who's been making pictures since she was 16 years old (she's now close to 40), said her fridge art didn't necessarily serve as a source of inspiration for this edition of Out of the Box, she certainly riffed on layering, projecting prints by her friend Martin Bergström onto brocade Stella McCartney sweaters and patterned Oscar de la Renta pieces.
Bergström, his trio of assistants-slash-models (a set of male twins and a blonde woman), and one of Ivanow's helpers spent several days shooting in her Stockholm house, a surreal experience for her 5-month-old son, who wandered into the frame at times, amused by his mom's "flower-heads." She captured them in a variety of fantastic domestic scenes that "seem recognizable, but are done with a bit of a shift: Either the camera is slightly in the wrong place, or the light is altering everything, but there's still something recognizable to connect to," like catnapping on the couch, or having a casual conversation around the living room table. However, Ivanow herself was reticent when asked about the results. "I think images have to speak for themselves," she explained. "You can talk generally about the shoot, but I think you also kill something if you talk about the images so much. For me, it's a lot about half-sentences and leaving certain things untold. Even when I have a very clear concept of what I'm doing, I always work to keep things ambiguous." Click ahead to see (and read) more of the story behind Ivanow's photos.
Fashion market editing by Jenny Kang.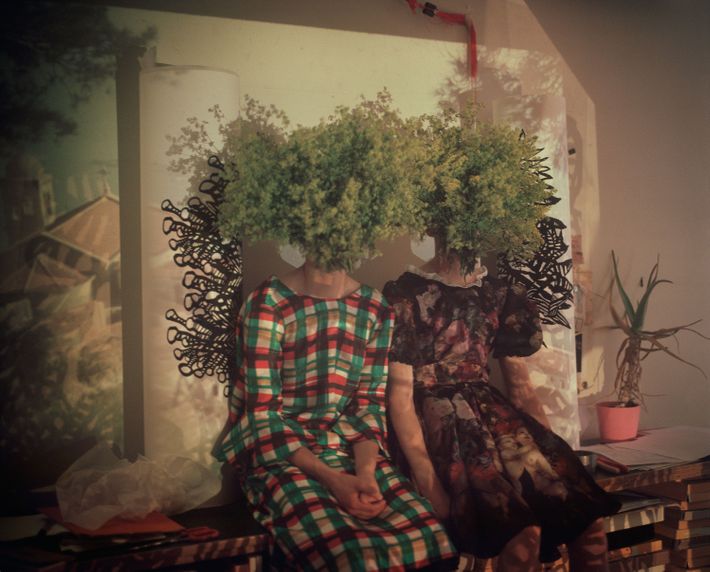 "In this image, everything's a little bit off — like it's been posed, but taken a second too late. And there's lots of little mistakes everywhere, like the scissors and you can see the roll of tape. You can see little parts of the set … to choose the dresses, we had to work with what we had. It was more choosing what was there, and then we applied the rest to the point that they seemed to create an image. There wasn't that time to plan; it was more to react, in terms of the clothes, anyway."   From left to right: Chris Benz dress, $1,095, available at Chris Benz (212-244-2020). Dolce & Gabbana dress, $4,495, available select Dolce & Gabbana stores (877-70-DGUSA).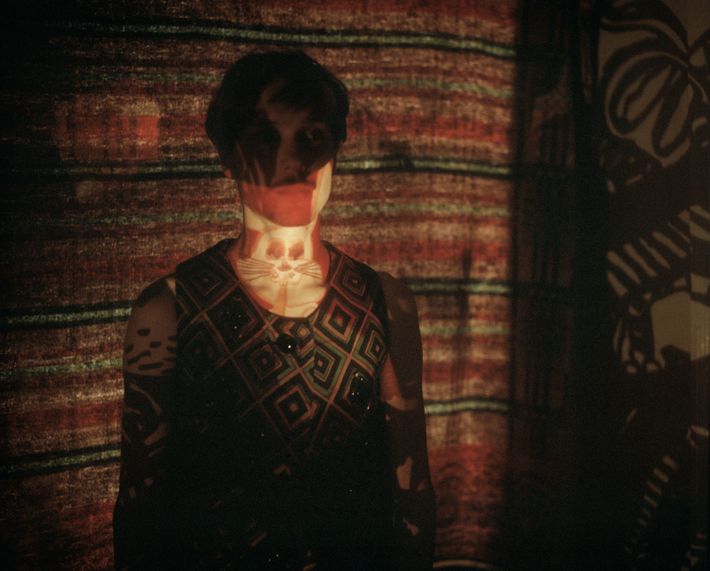 "Here, he has a very serious young man approach, with a rabbit in his neck. It's humorous somehow."   Prada coat, $3,560, available at prada.com.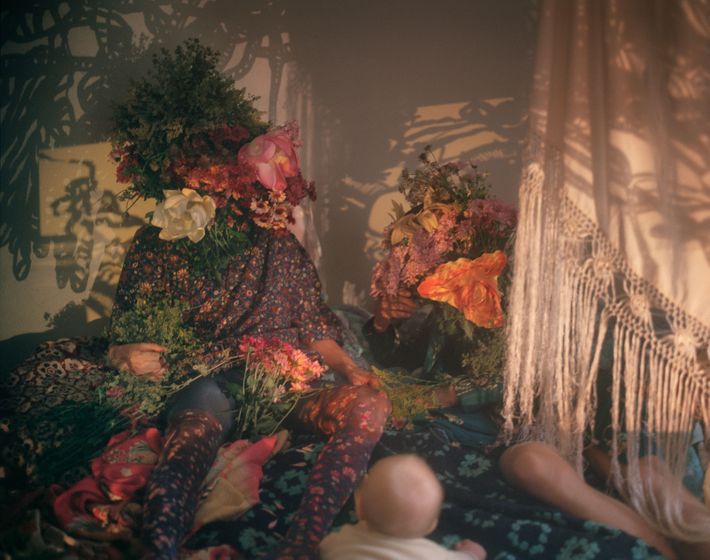 "My baby must have had a bit of a surreal experience during the shoot, talking to those flower-heads … he was so funny, and being in this image almost feels like a mistake, so I like it — even how it's just the back of the head. I like the triangle of how they're looking at each other. Of course, they can't see anything, but they're suggesting that they're seeing something, that he's looking at him."   Hermes dress, $4,950, and tights, $270, available at Hermès (800.441.4488). Oscar de la Renta coat, $2,990, available at Bergdorf Goodman (754 5th Ave; 888-774-2424).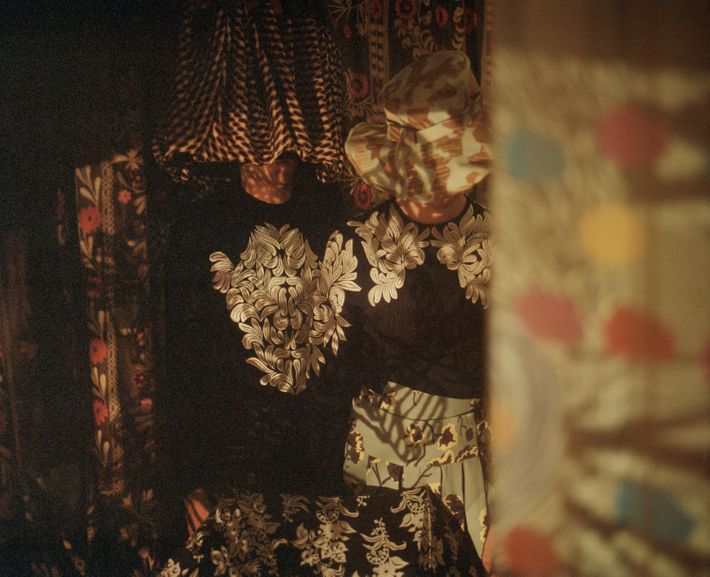 "I don't think that the images are that dark — I think they're light and dark. There's no dark without light. I think there's a lot of shadow, a lot of ways to distract. To me, they're not so dark, so maybe it just depends on what someone is used to seeing."   Model on left: Mary Katrantzou dress (worn over head), price available upon request, available at NET-A-PORTER.com. Stella McCartney dress, $3,370, available at stellamccartney.com. Model on right: Acne hat, acne.com. Stella McCartney top, $1,765. Suno pants, $595, available at sunony.com.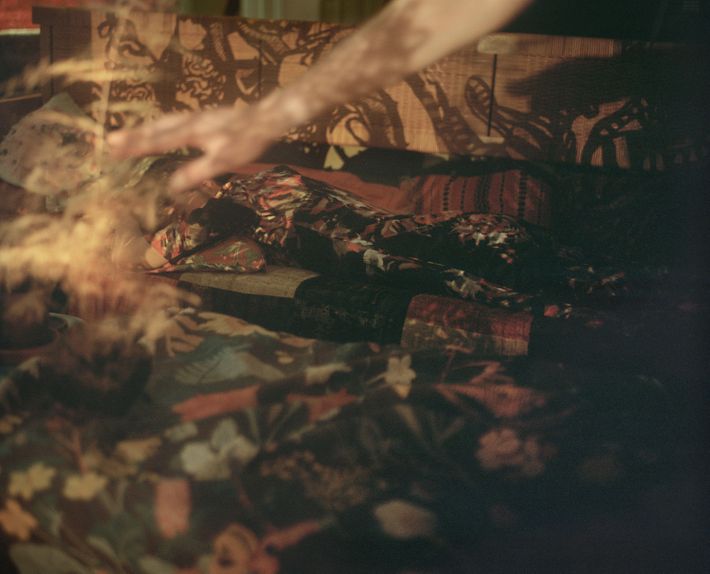 "The shoot was in my house, which isn't something I normally do, but it was easy, it was practical, and I have lots of different kind of neutral-colored walls, and lots of shape. It didn't really matter where we were so much … but it's hard to find this sort of space, because it's a little town. And, here, there are a lot of things to pick from that you would otherwise have to go to a prop house and rent, so I got a lot of things for free that you can just stick in or you can lie down on. I prefer to shoot in houses, but I don't normally shoot in my own house. Not so much."   Suno dress, $895, available at sunony.com.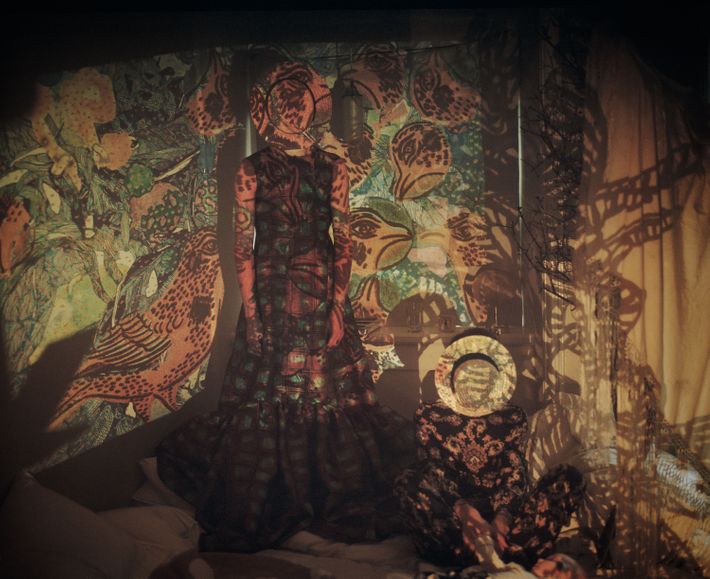 "We made some of the patterns to project, and some of them are from Martin's illustrations, and some were made to be similar to the clothes, and some are just slides we found in different places that might work. Then, of course, some things were also in the house, but it's just about placing them together."   From left to right: Rochas dress, $6,640, available at Rochas.com. J.Crew pants, $285, and top, $298, available online at jcrew.com. Hats are photographer's own.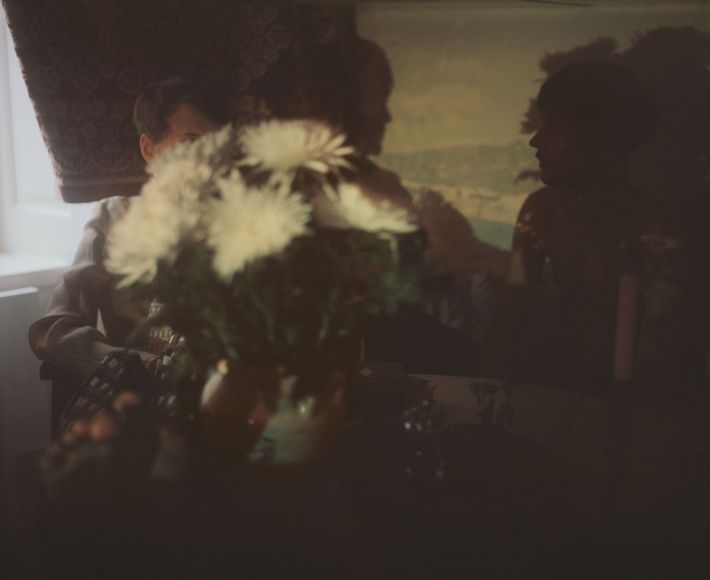 "This is one of my favorites, because of the strangeness of covering them — covering the actual content of the image — and then at the same time you have two profiles, the profiles of the shadow and the profile of the boy, so there's a sort of conversation happening parallel to them."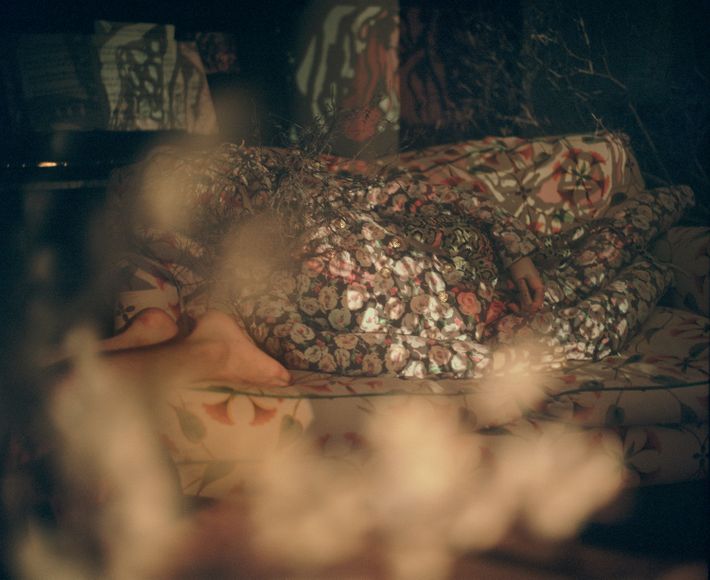 "The forms can be part persona and part something else. But there's always a person in there."   Juicy Couture jacket, $298, and pant, $198, both available at juicycouture.com.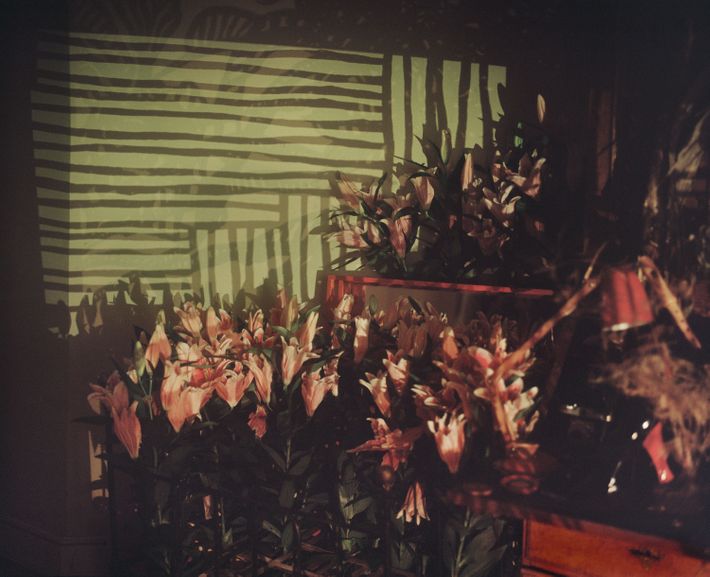 "There's a shoe in this image, but it's very out of focus. This one is hard to talk about, really —  except the pattern on the wall resembles something that we know, like curtains, but it's all crooked and wrong. In that sense, it's interesting. I think you can find that in every shot — something that you recognize, or something that seems classic, but it's not."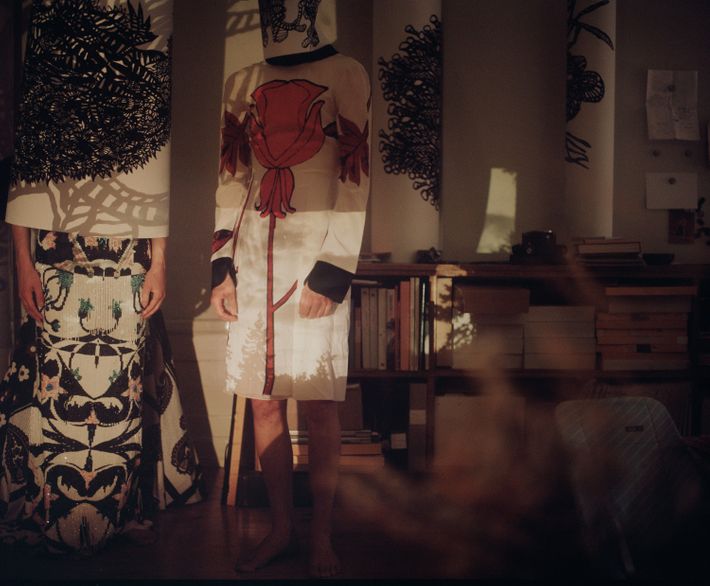 "I tried to make an excuse for experimenting. I wanted to make it abstract in different ways … I was trying to almost deduct information or add so much information that you lose track — photography tends to show too much, more than I can actually read. I try to find ways to deduct or abstract or layer things in a way so that, for me, it seems more realistic."   From left to right: Oscar de la Renta gown, $11,490, available at oscardelarenta.com. Marni dress, $1,900, available at Nordstrom.com.