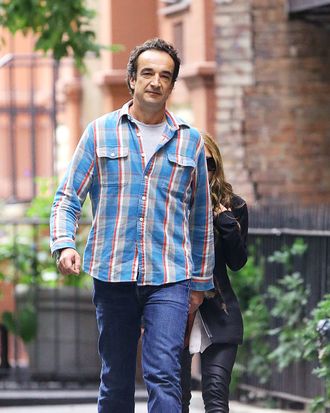 Photo: Sharpshooter Images/Splash News
WSJ.'s Fashion Innovators of the Year, Mary-Kate and Ashley Olsen, sat down for a feature printed in the mag's November issue. The "Sisters of the Divine," as they're referred to, discussed the Row's early days, collecting vintage pieces, and their "true customers," but toward the end comes the good stuff:
Mary-Kate has been under the microscope regarding everything from the layered grunge look she sported during her NYU days (she's joked that she was a California girl unprepared for Manhattan winters, so she put on everything she owned) to who she's dating, currently that happens to be Olivier Sarkozy, head and managing director of the Carlyle Group's global financial services division and half-brother of the former president of France. Their 16-year age difference is a current tabloid topic. "Everyone has an opinion," Mary-Kate says. "I find it's better to focus on what's in front of you and to keep putting one foot in front of the other."
As pictured here! And this is what we call Cut-baiting.