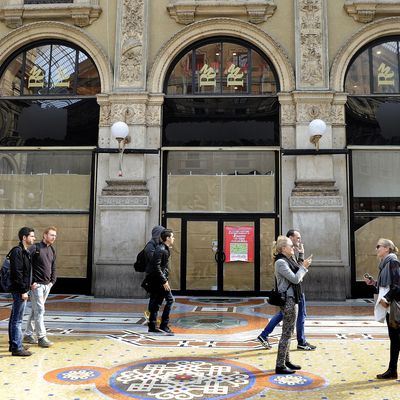 Photo: OLIVIER MORIN/AFP/Getty Images
On Tuesday, the fast-food chain shuttered one of its most popular outposts in Italy, freeing up space for a new Prada store … across the street from an existing Prada store. How very McDonald's-y of the fashion house! According to Time, McDonald's is suing the city — the owners of the Galleria Vittorio Emanuele II — for $30 million (roughly 8.9 million Big Macs, or twelve Prada purses), "citing that the bidding process [Milan] used to find a rental tenant for the location unfairly excluded them." And it gets sadder. From the Guardian:
Memories from fans scrolled across a panel outside: "I'll miss you," said one, recalling trips there as a child. On the McDonald's Italia Facebook page, dozens of comments recalled shared laughs, first kisses and regret at the closure.
Greasy tear.