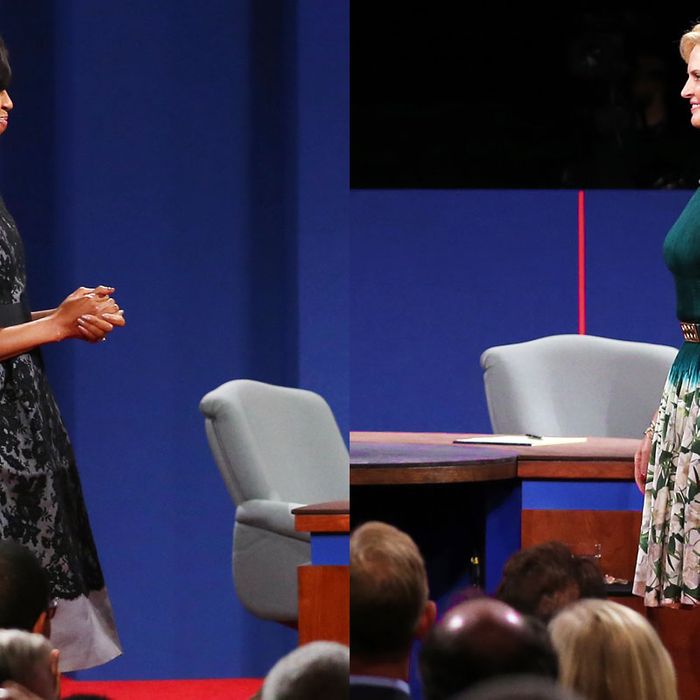 Monday night marked the third presidential debate, and, as the MSNBC.com co-anchors chanted in a trancelike state during their post-show roundup, the last time that President Obama and Mitt Romney plan to see each other in the flesh before November 6. And the same likely goes for their wives, Michelle and Ann, who were in the audience for the Foreign Policy "Can I Finish?" Fest at Lynn University in Boca Raton, Florida. After picking skirt suits to impress chirpy Jim Lehrer and Breast Cancer Awareness pink for Debate No. 2, both ladies donned A-line dresses for their final appeals to America! — a non-coincidence that we'll now refer to as the Battle of the A-line Dresses.
Michelle: For her A-line dress, the first lady repeated a gray, short-sleeve number with a black lace overlay by Thom Browne. She gets points for recycling (+5), and points for wearing an American! designer (+7), but loses a few because this debate was about foreign policy, and she should have incorporated a beret (-3).* Speaking of accessories, the Cut liked her ribbon pin (+2); however we couldn't find any photographs of her footwear. Maybe she opted to go shoeless — it is Boca, after all (+/-10).
Ann: For her A-line dress, Ann chose a green-to-white ombre piece with a floral skirt (+6 points for seamlessly combining so many trends) by Oscar de la Renta, who is an American! designer (+4) and foreign (+4). Her outfit looks a lot like this Resort 2013 gown, if she took the fabric and tilted it, sewing it into a new silhouette, which she didn't — and she probably makes clothes on the regular for Rafalca (-4). Her nude pumps are v. Kate Middleton (+3), but we can't tell if she has on the mandatory sheer pantyhose (+/-15).
* This post has been updated from its original version.