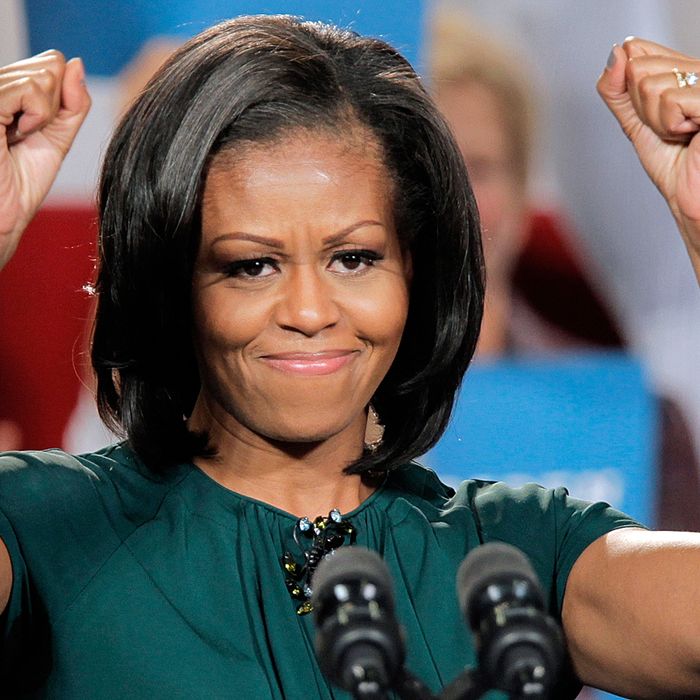 Photo: Ed Andrieski/Corbis
Michelle Obama appears in the November issue of Elle with an open letter asking readers to vote for her husband, including a five-point outline of Obama's platform, women's-vote edition. The first three reasons to reelect Barack Obama deal with his record in office: the Lilly Ledbetter equal pay act, his first bill; Obamacare's birth-control-covering women's-health-care mandate, his "doubled funding" for federal, need-based college grants.
The last two are a little more nebulous. The fourth reason to vote for Barack Obama is that he "understands that women's success in this economy is more than just a women's issue." It's a "crucial economic issue for our nation" because "more and more women are now breadwinners for their families" — guess he read The End of Men. And No. 5 is that Obama believes everyone deserves a fair shot. "And whether it's investing in education or ensuring that regular folks don't pay a higher tax rate than millionaires and billionaires, Barack is fighting to make sure that everyone in this country has a shot at success."
Implied in this last point is a critique of her husband's friend-of-rich-guys-everywhere opponent, Mitt Romney. But it's much too subtle for the open-letter form, recently made stylish again by fashion designers Oscar De La Renta and Hedi Slimane.  Needs more fast-food name-calling, Michelle!