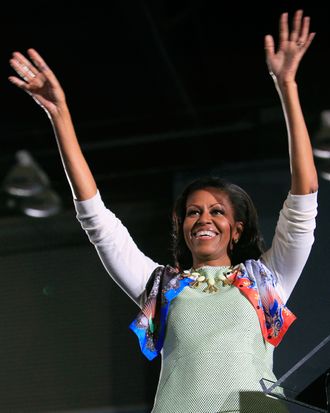 Michelle Obama, in a Miss Wu dress.
Photo: Al Behrman/AP
Jason Wu's new diffusion label, Miss Wu, won't hit stores until January, but the Daily Beast spotted Michelle Obama wearing a dress from its first collection in Cincinatti today. Although it's rare for her to wear something that isn't available for sale, Obama is a longtime Wu supporter, so this is a fitting exception. Plus, Miss Wu is a lower-priced line, so while you can definitely accuse her of getting special treatment, it's not like she's an elitist or anything.