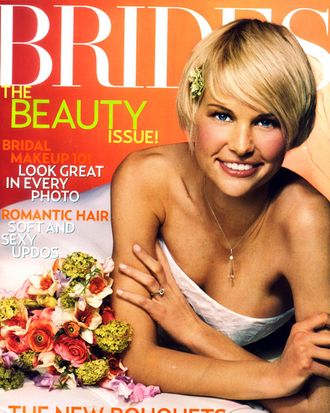 Model Louisa Raske (pictured here on the cover of Brides magazine) leads a new class action lawsuit against some of New York's top model agencies, accusing Ford, Wilhemina, and Elite Model Management of routinely providing inaccurate wage statements. The lawsuit also alleges that the agencies hid money that models earned on jobs entirely. Always ready for a rhyme, the Post calls this "a looker snooker" — to us, it's more like "cooked books" (we can rhyme, too).
This is far from the first time models have had to sue their agencies to get paid — it'll likely be far from the last. Earlier this year, three young models sued Aristeo Tencgo, founder of the small agency Emmanuel Models, alleging sexual harrassment and also claiming Tencgo withheld their wages from paid jobs. (When they asked for their money, he reportedly told them payments would be made "all in God's time.") Back in 2010, big-name models Karmen Pedaru, Anna Jagodzinska, and Anne Cywinska sued Next agency for withholding $750,000 of their collective earnings, and asked for $1 million each in punitive damages too. No resolution of this suit has been made public.
Last year, Jezebel's Jenna Sauers wrote about the disconcerting speed at which her agency fees rose during her time modeling. Standard contracts usually allow agencies free rein to deduct from a model's wages, be it for their commission, a bunk in a cramped models' apartment, a run of showcards, or anything, really. The contracts referred to in Raske's suit also apparently waived a model's right to sue over any potential financial improprieties. So, hopefully her former agency doesn't bill her for this.