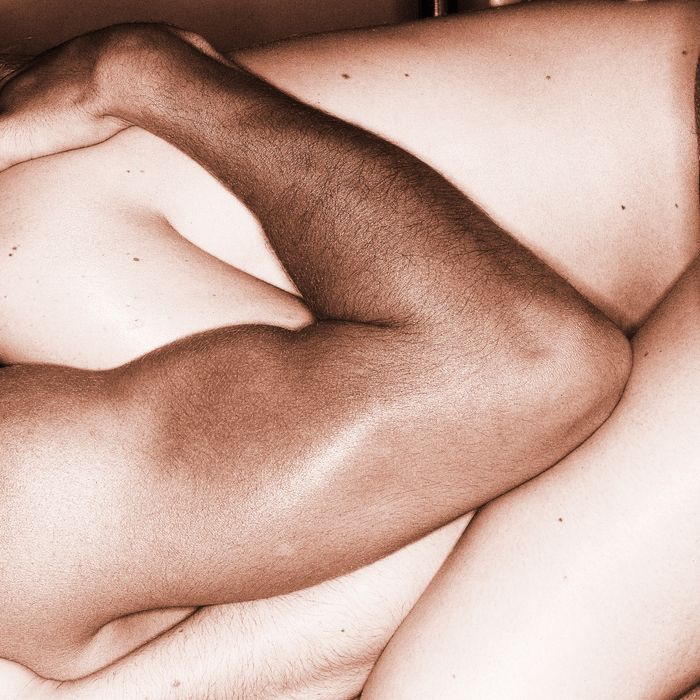 "We aren't gonna, like, simulate sex, are we?" My friend Jeff asked me.
"Don't be gross. Obviously, I wouldn't invite you to something like that," I responded, disturbed.
Cut to a week later and I'm grinding on Jeff's boner in a room full of strangers being told to "breathe hard" by a woman with a microphone.
It all started months ago, when I interviewed the sex educator and "sensual revolutionary" Barbara Carellas for an article for Vice magazine. Barbara is my hero because she can have full-body orgasms without any genital touch at all. Read that sentence again. To climax she just channels her breath and squeezes her PC muscles. When she told me she teaches an "Urban Tantra" workshop on this, I enrolled faster than you can say "I doubt this will work for me."
Since I am single, I enrolled in the class alone, but a friend who had taken the class warned, "Don't go alone, they're going to pair you off with some greasy guy with a bald spot/ponytail combo." Man Ponytail is actually my greatest fear, so I really needed to find a date. But inviting someone to a tantric sex workshop is tricky. You can't just be like, "What are you doing this weekend? Want to take me to new sexual heights in a public setting?"
My relationship with Jeff is unusual as far as hetero male-female relationships go because it is actually, truly, platonic. Neither of us is secretly in love with the other person and we have never made out or had sex. We joke, "If we're both single when we're 40, let's still not get married because that would be gross." We're like Meg Ryan and Billy Crystal in When Harry Met Sally, except that we never end up together. Well, except when tantric boner-grinding is involved, apparently.
So Jeff kindly agreed to come to the class, an all-day workshop from 10 a.m. to 5:30 p.m. on a Saturday. We met at the L train and headed into the city. I was expecting the worst. In my imagination, the type of person that goes to a tantra class is the same one that goes to a Renaissance Faire: a squishy white person with social anxiety and a closet full of capes. When I arrived at the class, however, I was pleasantly surprised.
There were middle-aged couples, business professionals, dancers, hippies, yoga teachers, people of color — the whole mix. Many were attractive. I felt like I was at the opening of a hip Fort Greene restaurant.
When we walked in, I spotted our teacher, Barbara, lounging like a cat on two bright orange cushions with a gauzy Indian tapestry behind her. With her kooky zebra-print glasses, bright pink streaks in her hair, and rainbow-print dress, she looked like a character from a Dr. Seuss book. "Oh, the places you'll go!" I imagined her saying. 
First we sat on cushions in a giant circle and talked about why we were there. Some responses were relatable: "I am a type-A overachiever and I want to get out of my head during sex," said one person. "I can only have an orgasm when I'm masturbating and I don't know how to have one with a partner," said another.
Others were a bit Burning Man for my taste: "I'm here because Saturn is going into Scorpio so I thought it would be a good time to explore my sexuality," said a blond astrologist. "I'm here to learn how to dance with the divine," said a guy wearing a carved-wood necklace.
Within an hour, the room of strangers had become the platonic ideal for sexual education, an open and illuminating conversation about physical pleasure. Then Barbara walked into the center of the circle, as though to do a break-dance routine, but instead she lay down and began to work toward orgasm. With her back and arms on the ground and her knees up, she began rocking her pelvis back and forth. We all watched, hypnotized, and after a minute or two she began to yip, then spasm with high-pitched laughter. Her toes curled in, her fingers gripped into claws, and her chest convulsed. The class instantly erupted in applause.
Then we all tried to replicate her experience. Barbara dimmed the lights and turned on some tribal music that reminded me of The Lion King. We channeled energy from our genitals to the top of our head while breathing really fast and hard. All around me people were moaning, crying, and screaming. We sounded the way WWII medical tents do in movies. I was getting light-headed, and before I knew it, we were done. Afterwards, everyone talked about seeing colors and out-of-body experiences. I felt like I was back in high school, lying about how awesome sex was. "I came, like, 45 times." Lies, lies, lies.
Then we broke for lunch.
After lunch, we partnered up. People who came alone could either work by themselves facing a mirror or with someone they just met. We were to practice "eye gazing." Sitting across from Jeff — who is a clown, a stand-up comic, and a mime — I knew this was going to be a disaster. We lost our minds and laughed like possessed carnies. It was that kind of laugh-at-a-funeral type of reaction, where your body just rejects appropriate behavior. Barbara patiently encouraged us to use our breath to try to calm down. Then she walked around the room with a microphone, giving us instructions.
"I want you to think about what this person looked like when they were first born."
"I want you to think about this person before they were wounded."
"I want you to think about what this person will look like as they die."
Looking into Jeff's eyes, I felt like I was watching the movie of his life. I saw my friend in a way I rarely see anyone; with all his vulnerability, fear, pain, and joy. It was unsettling but strangely beautiful. I felt cracked open and began to cry.
We practiced the concept of giving and receiving, gently caressing each other's faces, necks, arms, and hands. Our last exercise was the only explicitly sexual one. Barbara demonstrated this tantric position with a sexy girl named Zara, who sat on her lap and gyrated. I was familiar with this move. Jeff and I looked at each other like, "Should we?"
I don't know if it was the tropical rainforest soundtrack or the fact that we just envisioned each other dying, but Jeff and I "surrendered to the moment," if you will. I wrapped my legs around his waist, threw my arms around his neck and connected with him in a way I never imagined. (Penis to vagina.) When the exercise was over and the class ended, Jeff and I looked at each other.
"Do you feel weird about this?" he asked.
"Nope."
"Do you?"
"Nope."
And we walked off into the distance, still just friends, never to dry hump again.
By far, my favorite thing that we did that day in class was the eye gazing, because it felt deeply intimate and connected. But I don't know if that is a move that would translate well into a real-world sexual situation. Asking a guy to look into my crying face and picture me dead might be a little too avant-garde. Oh, well, I can always call Jeff.