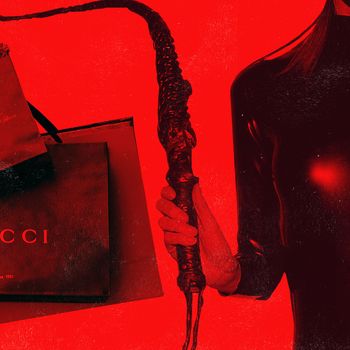 Goddess Nia is a 23-year old college graduate and a full-time financial dominatrix: Submissive men obey her by sending the money she demands and purchasing gifts. She expects to earn $60,000 this year, plus presents like Burberry trench coats and a new iPad. Her "pay pigs" include a celebrity chef and a powerful CEO. This is her story.
I had just returned from Copenhagen, where I went to explore my feelings for an ex-girlfriend, but realized that I really loved my boyfriend in New York and came home to him. I couldn't get a good job in my field, documentary film-making. I was like, "Man, I need to find something completely out of the box."
One night, surfing Tumblr, I came across a dominatrix's blog. I found myself really attracted to what I was reading. I thought, What would it be like to walk into a party and answer that dreaded, anxiety-filled question, "What do you do?" with the response, "I'm a professional dominatrix."
I wasn't ready for a dungeon, and wasn't sure about human interaction at all. But I saw that some fin-dommes don't even meet their pay-pigs — or human ATMs — or slaves — whatever you want to call them. So I told my boyfriend, and he was very encouraging. He's all about going against the grain.
The first step was joining Fetlife and Collarme, websites catering to the BDSM community. They're social networking sites with options for specific kinks. I joined all the groups related to fin-dommes. I had to create a persona. You can't be struggling or desperate. The subs want a woman who likes to splurge, who likes bags and shoes. You need to be bossy, demand to be spoiled. So I uploaded pictures and wrote a bratty profile like, "Guess what? You work so hard on making all this money, and now I'm taking it! Just like that. How does that make you feel?"
Suddenly I had extremely wealthy, successful figures getting in touch with me. They feel enslaved by their companies; they've spent their whole lives making money for other people. They want to release that.
Initially, I make them fill out an application. Then I tell them to send me a "tribute," to know that they're serious. That's done through PayPal or GreenDot MoneyPak. I also have a registry and a P.O. box. My wish list ranges from a memory foam mattress to a Chanel clutch. The first pig I ever had sent me a $500 Amazon card. When it arrived, I was like, "Holy shit, this is real, this is real, holy shit." I was so giddy! My world had opened up.
Another sub wrote, "Goddess Nia, you're a perfect 10. I want to be your pay pig." I said, "Did I ask you to rate me on some misogynist scale? Fuck you. I want you to send me a tribute, and I want you send it in all ten-dollar bills, since I'm such a perfect ten. And I want it to be $1000." He did it.
The first time I met a sub in person was at the Standard Grill, right around the corner was the Apple store in the meatpacking district. I said, "Before you speak, we're going to the Apple store around the corner." Right then and there, he bought me a new iPad with all the accessories. One sub took me to Burberry on 57th Street and bought me a trench coat, while I was all bratty about it.
Emasculation. Sissy-fication. People put in their credit-card information and call me just to have me answer and ignore them. I'll run errands and neglect them on the phone all day.
After six months of hard work and a lot of mind-blowing propositions — from covering my rent for a year to paying to watch me eat cake and listen to my stomach digest food — I have three main pigs.
Sub-Chef is a super-successful restaurateur. He's the only one who's ever crossed the line sexually, because he confessed to masturbating to me. So I put his cock in a cage. Now he's inside a chastity belt and can only masturbate one week out of the month, and that's only if he can answer my trivia questions. Isn't it crazy? This famous chef is walking around in a cock cage. When he failed a quiz about Arrested Development, I ordered him to write 2,000 words on the meaning of obedience and wouldn't unlock the cage. I went to one of his restaurants and said, "My moules frites are subpar; you have to personally remake them now." Meanwhile, the key to his cock cage is around my neck, and the waitress is watching from the corner.
Tiny Tim works in investment banking. I made him wear an anal plug to a major presentation. I watched him insert it on Skype, and he couldn't take it out until I ordered him to.
Then there's Guinea Pig. I literally take care of all his finances; I give him an allowance. I let him pay his rent, buy his necessities, and then I spend the rest.
I make somewhere between $3,000 and $5,000 each month. Most of it goes to student loans. One Goddess I know makes a million a year, and she was just gifted a Mercedes. But those women have been doing it forever and actually have a sexual connection. There's nothing sexual in it for me. I've never been with any of them physically.
I'm rewarded in other ways. It's therapeutic for these guys, and in a strange way, I care about them. The power that money has over these men — the fear they have over losing everything — they're trapped by it. This is a way of getting treatment. My subs say, "I love you Goddess; I'm so in love with you, Goddess." My answer to them is always: Good. Good job.
Someone once said, "I will pay to be your human toilet, because I feel lower than shit. Will you defecate in my mouth?" I said no. I have boundaries. Like, I won't get into blackmailing, threatening to call someone's wife if he doesn't pay up. The idea of ruining a marriage is too fucked up for me, but men actually sign contracts giving fin-dommes permission to do this. The adrenaline they get over a complete loss of control — having no power over body, mind, wallet, or privacy — is the ultimate rush.
Another personal rule is I won't bankrupt anybody. I only deal with wealthy people. Guinea Pig only makes $400,000 a year, but Sub-Chef makes more than a million.
When I first started, I wanted the money and excitement. Now I'm kind of hooked. I'll make at least $60,000 this year, and there's so much freedom. Not many people know about it. My family thinks I'm a nanny, and my roommates probably think I'm a shopping-addicted call girl or something. I don't care.
My boyfriend worries that being a financial dominatrix is changing me. I come from no money — my family struggled. Now I love nice things: comfort, art, beauty, feeling good. It's nice to feel worthy of luxury. I won't apologize for that.
People consider being a domme sex work. And it is. There's a certain release I'm offering, and I'm fine with that, even though nothing about this job is sexual for me. I never feel dirty. I feel fucking awesome. I'm so over placing the struggling artist on a pedestal. And I'm not hurting anyone. Well, not really.
Goddess Nia can be reached at TheSirenNia.com. This essay as told to Alyssa Shelasky.