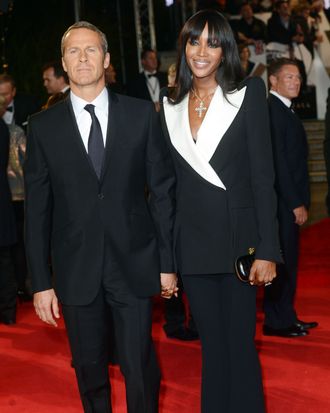 Photo: Rune Hellestad/Corbis
Gizmodo writes that the Zaha Hadid–designed, and Vladimir Doronin–commissioned house in Moscow, dubbed the Capital Hill Residence, is "almost done." The description from Hadid's website (where you can also see photos):
Located on the north-face hillside in Barvikha where pine and birch trees grow up to 20 metres high, a villa with fluid geometries emerges from the landscape. Its programme is divided into two components: one merging with the hillside, another floating above the ground with dynamic views overlooking the forest.
Or, as Gizmodo puts it, "The stunning 28,524-square-foot (2,650-square-meter) mansion feels like a smoothed Star Destroyer, with two 65-foot (20-meter) towers as the ship's bridge." Among the amenities: a gym, a Finnish spa, and an "indoor swimming pool that can reportedly turn into a dance floor," according to the Daily Mail. The paper of record also notes that Doronin bought a vacation house for Campbell last year, which "is situated on one of Turkish islands has 25 rooms and is shaped like an Egyptian eye." We'll let you visualize that one.