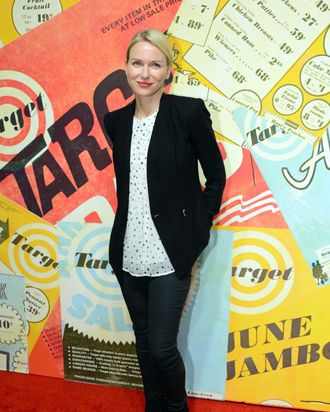 Naomi Watts.
Photo: Andrew H. Walker/Getty Images
At a party for Target's 50th anniversary last night, Naomi Watts, who plays Princess Diana in a forthcoming biopic, gave tips for those who might want to dress up as Lady Di for Halloween. "I had lots of help from professionals — obviously the wig, and I have a prosthetic nose," she explained. So, what about those of us who have to make do with Ricky's? "A lot of it is about where the eyes are. She's very much all about her eyes … Looking out from under the eyebrow, and under the fringe." Watts bowed her chin slightly and looked up at us, as if to peer through her nonexistent bangs. As for a good costume, Watts says that shoulder pads and double-breasted jackets are essential.
Has it been weird to see all the pictures of herself looking so much like Diana? "Yeah, they took some good snaps," she answered humbly. "I don't look that much like her in every angle, that's for sure. I'm five-foot-five as opposed to five-ten." She added, "But I'm not trying to mimic. It's just an interpretation." Same goes for Halloween costumes, really — don't mimic the slutty traffic cop, kids. Just interpret.