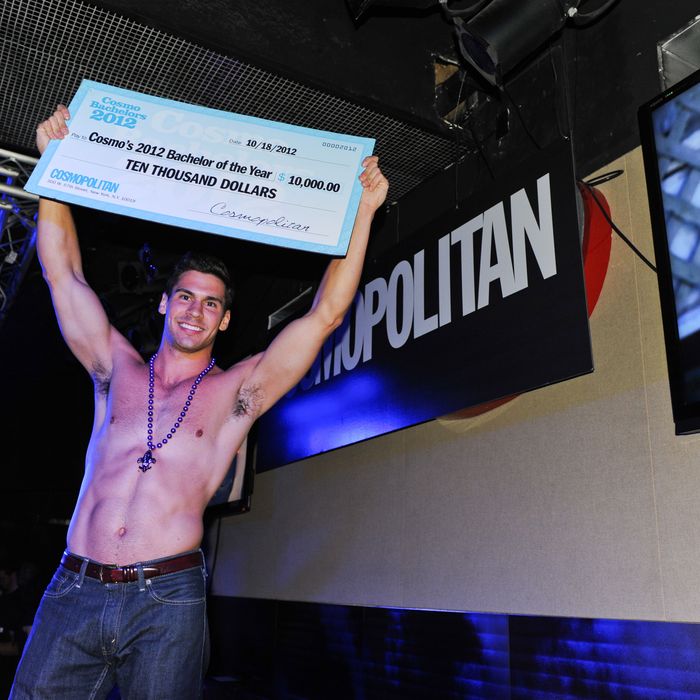 Photo: Courtesy of Cosmopolitan/SOCIALSHUTTERBUG.com
Barbara Walters and Mayor Michael Bloomberg spoke at a memorial service for Helen Gurley Brown yesterday at Lincoln Center, but the real testament to the late Cosmopolitan editor's legacy came later that night, at the slightly campy theater district nightclub Copacabana. There, the magazine celebrated its twelfth annual Bachelor of the Year contest, with 52 handsome contestants flown in from all 50 states and the District of Columbia (plus twins from Montana). A male beauty pageant without a talent portion, it's the apotheosis of Brown's chipper school of feminism, which courted the male gaze and urged women to get theirs on, too.
As guests arrived, flat-panel TVs around the club showed a silent film of the bachelors arm-wrestling, doing pull-ups on a tree branch, and lying around with their shirts unbuttoned. Women watched the abs and cross-referenced them with the bachelor catalogue published in this month's Cosmo, which had been scattered on tables. 
Downstairs awaiting their debut, the bachelors ate pizza and drank soda like it was the last day of seventh grade. The uniform was jeans and Cosmo-issue black T-shirt but, like politicians on the stump, many sported regional flair, like cowboy boots or a shell necklace. Mr. Kansas wore a woven parachute cord bracelet in support of first responders. Mr. South Dakota wore a silver cowboy belt buckle, which he casually rested his thumbs on as he asked his Cosmo handlers for permission use the bathroom. Mr. Louisiana wore one of those shiny purple plastic necklaces people throw around on Mardi Gras.
"It's a bead is what we call it," he said. He looked like a fair-skinned Taylor Lautner.
The bachelors were diverse in some ways — professionally, geographically, racially — and remarkably homogenous in others. Cosmo's apparent physical criteria: a smooth, square jaw; blindingly white teeth; and a defined, completely hairless chest and abdomen. One bachelor told me that he'd had to shave his chest for the first time for the Cosmo photo shoot in July. (The razor burn around their nipples was scrubbed from the video, I was later told.) By now his beard had come back in, but he yanked down the collar of his tee-shirt to reveal visible chest stubble. (I bet Brown — who famously published a nude centerfold of a Burt Reynolds laid out on a bearskin rug only slightly furrier than his chest — would have preferred him au naturel.) A handful of bachelors said they had increased their workouts leading up to the photo shoot to get Cosmo definition.
"You had to cut out the carbs and do cardio, it was no fun," said Mr. Kansas, a supply-chain coordinator for a flexible packaging company.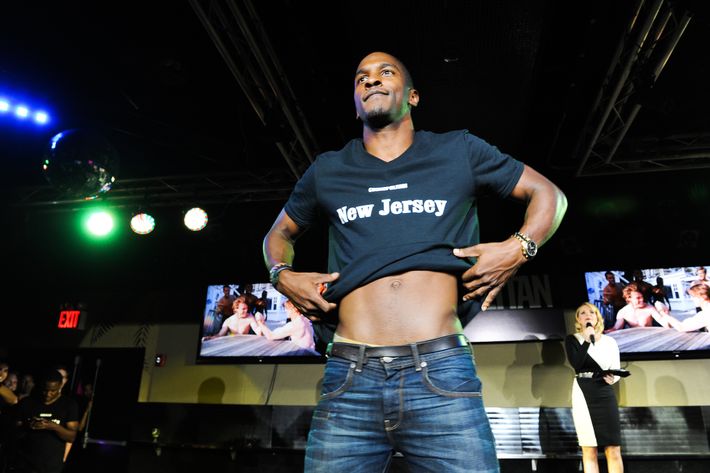 Halfway through the party, the bachelors were introduced to the crowd by way of a hybrid catwalk-striptease presentation, in alphabetical order by state. It was emceed by Carrie Keagan, the host of VH1's Mob Wives: The Sit Down. She gave fun facts about each bachelor.
"He prefers a girl who goes commando."
"He's rumored to be good in the kitchen."
"He's a high school English teacher."
Most of the bachelors walked out, removed their shirt, smiled, and walked off. Others had little Magic Mike–inspired moves, like the one who licked each thumb before pulling the front of his shirt behind his head, like a little bolero jacket, and throwing the deuces. One unbuckled his belt, pulled a plush rabbit out of his pants and threw it into the crowd. The twins unfurled a Montana state flag between them. My favorite move was the bachelor who took off his glasses sexily, like he was getting ready to strip, then stumbled around, faux-panicked, before putting them back on. He didn't take his shirt off at all.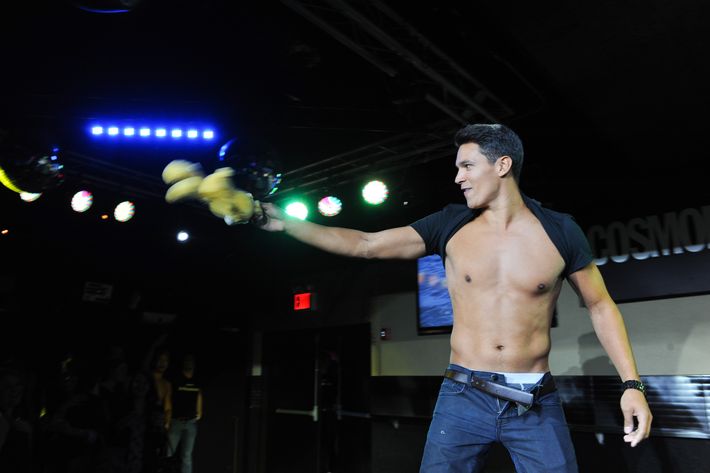 I wondered if the more conservative bachelors were worried that their tenure as a Cosmo bachelor might come back to haunt them. Scott Brown, after all, took a lot of flak when his Cosmo centerfold surfaced midway through his Massachusetts Senate campaign in 2010. Mr. New Jersey, a national TV news anchor and nonprofit founder, said he had gone back and forth with a Cosmo editor before accepting the nomination.
"She really reassured me that if I thought it through, I'd be able to bring what I want to be to the readers of this magazine," he said. "And she's absolutely right."
Cosmo readers voted for their favorite bachelor, and a winner was chosen among the top-voted by Cosmo editors. It was Mr. Louisiana, a.k.a. Ryan Chenevert, a Baton Rouge attorney.
"I just found out I passed the bar on Friday," Chenevert said. He plans on splitting his $10,000 prize money between his student loans and charity and is hoping to meet "a really great girl that knows who she is and is comfortable with who she is." Asked why he hadn't found her yet, he said, "I've been studying my butt off in law school for three years!"
Rihanna's "We Found Love" played as the bachelors were released into the throng, but the party was not, we were told, a hopeless place. Cosmo's Bachelor of the Year contest has produced four marriages, including one couple that met at this very event. If the women present had come hoping to attract one of Cosmo's hottest bachelors, they appeared to think platform heels and a peplum were the trick. The bachelors swarmed around the open bar, stopping to chat politely with the scrum of women formed in front of it. One bachelor, a dead-wringer for Tim Tebow, took a knee on the ground while a woman's camera phone flashed. Others trickled up to a V.I.P. section, where two bachelors were giving topless interviews to hosts from Cosmo's Sirius XM Radio Station. A friend pointed out that radio might not be the best medium for this event.