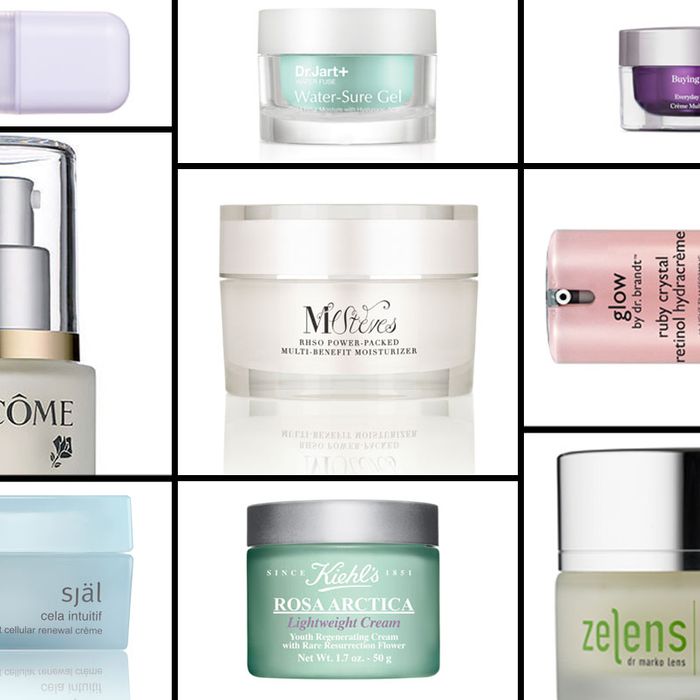 Lifting! Plumping! Dissappearing! Facial skincare isn't black magic, yet most heavy-duty anti-aging creams pretend it is. They promise gadget-y, high-tech ingredients that are often too power-packed for people whose faces aren't yet lined with creases caused by depleted collagen. That's why, if you're just starting to see subtle lines in the mirror, it's best to start with a slow stream of antioxidants, lightweight hydrators, and collagen-boosting ingredients that won't weigh down your face or clog your pores. Young skin — even in your forties — is already producing enough good stuff to keep your face supple. So consider these nine options smart preventive measures, because you don't yet need a full-blown solution.
Dr. Jart+ Water Fuse Sure Gel ($38, Sephora): Instead of loading up the skin with anti-aging ingredients, this gel creates a barrier to block out harmful environmental elements. It's so light, you'll want to slather it all over. 
M. Steves Power-Packed RHSO Multibenefit Moisturizer ($46, M. Steves): When Mally Steves Chakola, 32, wanted a lotion for herself, she sought out  rose hip seed oil for its healing omega oils, then added natural antioxidants and hydrating hyaluronic acid. 
NUDE Radiant Day Moisturiser ($52, Sephora): Probiotic nutrients — like those in yogurt — stimulate the skin to promote its own anti-aging factory, boosting renewal of new skin and hydrating your face in the process.
Kiehl's Rosa Arctica Lightweight Cream ($60, Saks Fifth Avenue): The original version is thick enough to slather on cracked elbows. But the new lighter formula is still based on the DNA of the so-called Resurrection flower, which can thrive in arctic weather for over two years. This cream is less likely to clog pores, especially if you have oily skin.
Dr. Brandt Glow by Dr.Brandt Ruby Crytal Retinol Hydracreme ($65, Dr. Brandt Skincare): Antioxidants, anti-inflammatories, and a mild retinol treatment with every application make it "good for everyone, but great for people under 40," says dermatologist Fredric Brandt, M.D.
Vbeauté Buying Time Everyday Creme ($135, Bergdorgf Goodman): Developed by gal-about-town Julie Macklowe, 34, her cream is specifically formulated to boost collagen, which fends off the premature signs of aging we all worry about.
Sjal Cela Intuitif ($155 for 1oz, Ron Robinson): Natural botanicals, as well as Vitamin C and A, feed the skin to keep it elastic, which helps to fend off fine lines, according to founder Kristin Petrovich.
Lancôme Absolue Premium βx Absolute Replenishing Lotion SPF15 ($160, Lancôme): With a slight floral scent, the milky lotion is the lightest the Lancôme collection offers, but it still has the plumping properties of its heavier, creamier counterpart.
Zelens Z Recovery Intensive Repair Balm ($225, Space NK): As the most expensive cream in the bunch, this one is meant for those who need more active ingredients to protect complexions from harsh climates, repair sun-damaged skin or acne scars, and offer some exfoliation. It's potent, but light to the touch and almost gel-like in texture.