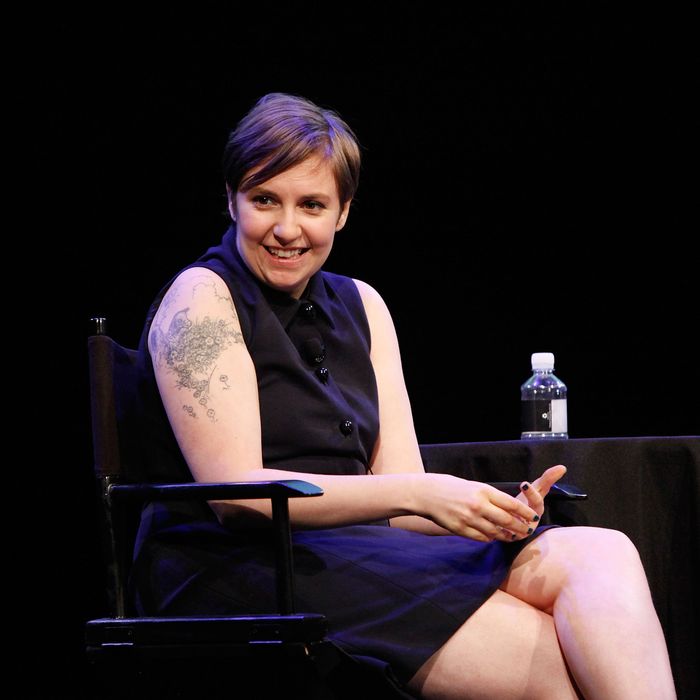 Photo: Amy Sussman/Getty Images
The late Nora Ephron might have felt bad about her neck — or breasts, depending on the era — but her friend and acolyte Lena Dunham does not feel bad about her thighs. 
Among many other notable quotables to emerge from her New Yorker Festival appearance, the Girls creator and pricey advice-book author reportedly said:
"Last week I wore something to an event … a big top and little shorts, and a bunch of [blog posts] came out that I had been out without pants," she quipped at a New Yorker Festival appearance. "I actually saw it … 'Love it or hate it: The no pants look.' My mom … thought it was so funny. My boyfriend was like, 'People seem to be worked up about you going out without pants.' But I didn't go out without pants! I had shorts on. If Olivia Wilde had gone to a party in … little shorts, she might have been on a 'weird dressed list' or been told her outfit was cute. I don't think a girl with tiny thighs would have received such no-pants attention. I think what it really was … 'Why did you all make us look at your thighs?' My response is, get used to it because I am going to live to be 100, and I am going to show my thighs every day till I die."
No complaints here.