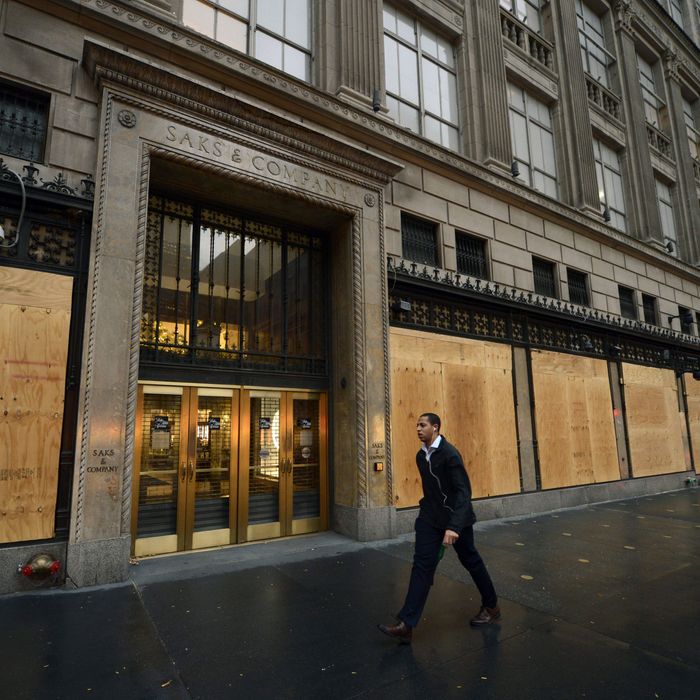 Saks, boarded up.
Photo: TIMOTHY A. CLARY/AFP/Getty Images
As you might imagine, not many people shopped this week on the East Coast. Because of all the Sandy-related store closings, Internet outages, and general mayhem, local retailers are screwed for the time being. The good news is that late October isn't a time when people normally do tons of shopping anyway, so losses aren't as bad as they'd be if a natural disaster happened around, say, Christmas or Thanksgiving. In other words, retailers will lose money, but not a crippling amount.
As for the actual numbers: The Times reports that shopping could drop as much as 40 percent along the East Coast this week, causing retailers' overall sales to be down 2 to 3 percent for the month compared to the same time last year. No one's put a dollar amount to the losses yet, but WWD says it's estimated to fall between $35 and $45 million in both consumer and business spending. Some stores will reopen tomorrow, depending on how many employees can get to work, but for now, all subways are still down and only a few buses are running in New York.
It always feels silly to write about shopping in the throes of life-threatening disasters; it goes without saying that Sandy's effect on the fashion industry means nothing compared people's homes and physical safety. Which is one of the many reasons why people got upset that American Apparel — everyone's favorite source of wholesome marketing ploys — advertised a 20 percent off "Hurricane Sandy Sale" yesterday. (The sale has since ended, in case you're wondering.) This really complicates our feelings about the fuzzy sweatpants we've been wearing for two days straight.
Related: Hurricane Sandy Renders Us Comfortable, Mostly Braless