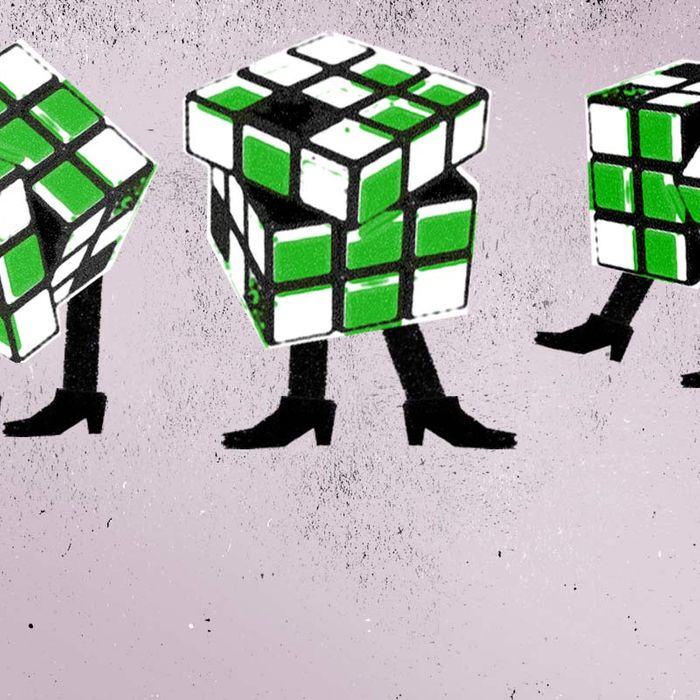 Halloween weekend is no time to think about social etiquette. But once the fun is washed out by Hurricane Sandy, a.k.a. the Frankenstorm, it's time to talk Thanksgiving. Like, should you bring your girlfriend home this year? What if she's a stripper? And your dad used to cheat on your mom with strippers? In this week's edition of Other People's Problems, we rank and sort, if not solve, this and other Thanksgiving and family dilemmas, as seen in magazine and newspaper advice columns.
Least Hygienic Thanksgiving, Dear Abby
Sharon is a hoarder.
It's a second marriage for my husband and me. Our children are all adults, and we all try to get along. My stepdaughter, "Sharon," has invited us for Thanksgiving weekend and insists that we be her houseguests. As sweet as she is, she and her family live in a borderline "hoarder" home. The last time we visited our hometown, we stopped by to see them. After a struggle to get the front door open, Sharon's first words were, "We know it's a mess. We don't clean or cook." When we returned to our car, my husband said he had never seen a house that filthy. But he insists we accept their invitation and not hurt their feelings. I'd rather get a motel room and take them out to dinner. I have strongly voiced my concerns for our safety and health to my husband.
Most Hygienic Thanksgiving, Dear Prudence
Due to my sister-in-law Amy's OCD and severe germaphobia, they have basically barred all contact with our children…My parents have been trying to convince them to get together over the holidays. But Amy has issued an ultimatum: They will only see us if my 2-year-old has her meningococcal vaccine by Thanksgiving. Both the CDC and my daughter's physician agree this vaccine should only be administered to toddlers at high risk for the disease, which my daughter is not. The normal schedule is to get this vaccine around age 11. (My older daughter is 12 and has had the shot.) I feel Amy picked something to ensure that we won't see each other during the holidays. I feel insulted and upset, but maybe I should just get my daughter the vaccine so we might have a chance at a relationship.
Best Inherited Trait, Dear Prudence
He gets his love of strippers from his dad.
My husband had numerous affairs with strippers, and now my twentysomething son is dating one. My husband's infidelity ended five years ago. Our marriage has mostly healed, and now we're happy together and very much in love. A few days ago my daughter called me and told me she found out that her brother has been dating a stripper for almost eight months—he is in love with her…I called my son to confirm what his sister told me, and he doesn't seem to care about his girlfriend's profession. He wants to bring her home for Thanksgiving. I told him I would not allow a stripper in my house. I know I sound judgmental, but the only strippers I have ever known have had no qualms about sleeping with married men. I worry this woman will use my son for financial gain or will cheat on him. Strippers also bring up very painful memories for me. My husband agrees with me.
Most Militant Dietary Restriction, Ask Amy
Vegans are delightfully self-sorting.
My son recently became engaged to a girl whose parents are vegans (although she isn't). They invited my husband and me to dinner and served a vegan meal, which we graciously ate and enjoyed. We always host Thanksgiving dinner at our home, and I invited them to join us. I offered to prepare an all-vegan meal for them. Their answer was that they would be unable to eat in a home where there are dead animal products served at the table. In other words, if there is turkey on the table, they cannot attend.
The Daughter of the M.I.L.F., Ask E. Jean
If Elaine Robinson got over it, so can she.
My mother is an attractive, interesting woman who reads ELLE and The Economist, dresses fashionably, and maintains a petite size 2 frame. Recently, I found out that my 39-year-old husband (of 14 years) has been having sex with her when he attends conferences at the resort near where she lives. When he told me, I was bothered by the fact that it didn't bother me. He's a wonderful man—father to our two children and a good provider—and he's always taken care of me emotionally, sexually, and financially. I know I should be upset; I know I should feel betrayed on so many levels. But I just don't. He says he enjoys the relationship with her but will stop if it's what I want. Honestly, if my mother and husband are happy in their affair, I just can't seem to find the energy to be angry or jealous.
Worst Family Reunion, Dear Prudence
Why is her boyfriend's mom there?
My mom asked me to accompany her to a distant relative's 60thbirthday celebration. She has a big family and we never really interacted much with her side, so I thought I'd go to meet some of my relatives. While I was eating dinner I looked up and saw my boyfriend's mother. I was surprised to see her and went over to say hi. Suddenly, my mom came over and began chatting with her, introducing me as her daughter. It turns out that my mother and my boyfriend's mother are actually first cousins! My boyfriend and I had been dating for a year and we were starting to talk about our future together.
Best Use of Millennial Entitlement, Carolyn Hax
Art school is a lifelong investment.
After graduating from art school in 2008, my daughter, now 26, worked an assortment of odd jobs before landing a job at an art gallery late last year. I've been giving her $2,500 a month to help cover her living expenses, but I feel like she should be able to shoulder more of her own expenses, given what she earns…To make matters worse, she and a co-worker are fed up with the boss and now want to quit and open up their own art gallery. The co-worker apparently would be able to secure financial backing. My daughter would work as director. I want to retire, but my retirement income would not be enough to support both me and my daughter. Meanwhile, I feel that after a lifetime of support, including college costs and a new car, I've done enough. But if she fails, then she might have to move back in with me, which would be an intolerable situation.