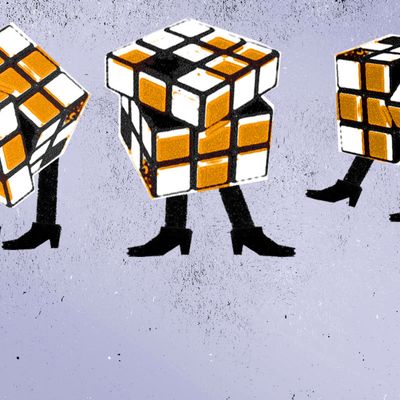 Advice column letter writers: Who are these oddly beleaguered people? Where do they come from? Why are they not our friends and family? What if they are our friends and family? Look for yourself and your loved ones in this week's installment Other People's Problems, where we collect and rank the best and worst of newspaper and magazine advice columns.
First up, the two kinds of neighbors: the ones who go to the beach with you after you sleep with their husband, and the ones who rat you out to the buildings department for your lack of renovation permit.
Most Hospitable Neighbor, Dear Abby
She's trying to keep things all Jules and Jim with her husband's ex-lover.
My husband, "Aaron," had an affair with the woman next door. We were close friends. I found out three months ago, and needless to say I'm not happy about it. My husband and I spent a lot of time with her (he obviously more than I). Aaron swears the affair is over, and he wants us to become a close threesome again. (She's in the process of divorcing her husband, who knows nothing about the affair.) The three of us have gone to the beach, to the lake, dancing — just like old times. My husband is thrilled; I am miserable. I am not convinced the affair is over, so I feel compelled to keep my eye on them. Every time we go out together, I come home upset and frustrated. Aaron says I'm being unreasonable and keeping him on a "short leash." He sees no reason why we can't all be friends — but I have no desire to be friends with her.
Least Hospitable Neighbor, Social Qs
Is calling the Buildings Department like the yuppie version of calling immigration?
Our new next-door neighbors are renovating their house without a permit. We asked them nicely to stop, and sent a letter to the same effect. When there was no response, we filed a complaint with the city's Buildings Department. The wife left us a long and nasty phone message telling us to mind our own business. Their two requests for the permits have been denied, yet they bang away.
Best Halloween-Costume Slippage, Dear Prudence
Furry is a spectrum.
Last year, my boyfriend wanted to have sex with me in my Halloween costume. I was dressed up as a cat. I went along with it, and I thought that was it, except for some inside jokes here and there. But now he's pestering me to get another costume this year, and he's put a lot of thought into it. He wants me to dress up as a fox, and this costume includes an accessory that doubles as a sex toy, and I'm not OK with it. Plus, he wants to role play — as in me crawling on all fours, and he catches me — you can imagine. I'm less and less comfortable with this.
Most Cunning Intern, Dear Prudence
Exploit your employer's fear of sexual harassment and you'll never have to wear a bra again.
For the first time in my young life I have been bestowed with an intern, Melissa. Melissa is smart, hard-working, and an asset to the company. Her only shortcoming is that she has gigantic (bigger than double-E) breasts but does not wear a bra. It is very obvious and, in my mind, does not look very professional. I'm not sure if I should ask her to please wear a bra or even address the issue. At the risk of sounding like a Puritan, Melissa's lack of a bra makes me uncomfortable. As a well-endowed woman I have always striven to be properly supported.
The Visitor From the Future Sex Utopia, The Hairpin
Self-conscious about the books on her shelf, not the notches on her bedpost.
Let's say I get a lot of books for free because of my job, and I don't know how to throw them away yet, so I have a lot of dumb-sounding books in my house, but they're not *my* books, because I just get them in the mail (also, how do people throw away books? recycling? those cardboard boxes outside?), and really you're basically a one-night stand, but it's not like I DON'T ENTIRELY care what you think, but are your drunken glances at my sort of horrifying book collection — I'd start giving you titles, but I don't really know where to begin, and I guess let's say a lot of them are neon — going to color anything? Even though I barely know you, should I still explain that I get most of my books for free?
Best Graveyard Avenger, Dear Abby
Floral wreath thieves, you've been warned.
It was late afternoon on Saturday when I took wreaths I had made for each of my grandparents, an uncle, my precious son (who was 5 years old when he died), and my dear late sister who was recently laid to rest … Even though the wreaths were artificial, they were pretty, and I felt proud to display them on the graves of my loved ones. The following evening, my sister called me after she had delivered her flowers to the cemetery. I was shocked to hear the news that my offerings were no longer on the graves — someone had taken them! (I am positive that the wind hadn't blown them away because I was careful to secure them in the ground.) However, I have come up with a solution: The next time I take a wreath to the cemetery, I'll put on my rubber gloves and add poison ivy to the greenery.
The Hygiene Totalitarian, Dear Prudence
An unreasonable bathroom demand.
My wife and I were in the shower together and I peed into the drain. She was disgusted, even after I explained that urine is sterile so it can't be that unhygienic. She said it is psychologically disturbing to know that I pee where she washes herself, even if there are no lingering germs. She made me promise not to do it again, but I can't help it. I've started peeing in the shower in secret, even as my wife bangs on the door to conduct random checks and remind me how disgusted she would be if I peed.
Most Misplaced Rocker Righteousness, The Ethicist
We're shocked — shocked! — that no one wanted to get down at this concert.
My fiancée and I attended a Death Cab for Cutie concert at the Beacon Theater. We had first-row seats in the balcony section. We typically stand at concerts to dance and sing along, but we didn't because no one else in our section was interested in that sort of thing. However, during the encore, we decided to stand for the last five songs. We were immediately chastised by several people behind us and told to sit down.
Worst Decorating Dilemma, Miss Manners
Fancy furniture, fat family.
My mother has been working over the past several years to salvage and refinish hand-carved wooden furniture that has been in our family for several generations. The finished products are beautiful and she would like to use the items in the main living room of her house (a chair and a love-seat, in particular). The problem we are facing is our extended family. We have several family members that are quite large and we are afraid that the furniture may be damaged if someone very heavy sits on them. Is there an appropriate way to direct people away from the antiques without offending them or do we have to hide the furniture away when certain family members come to visit?
Tangled Web of the Week, Savage Love
Some love triangles should be eligible for family calling plans.
Should I not have sex with my best friend's babydaddy even though he was my boyfriend before he was hers and we were about to get back together before I found out my best friend was pregnant?
Nuptial Slight of the Week, Ask Amy
What's he going to use this clergy collar for now?
My niece and her fiance will be getting married soon. They asked me to officiate at the ceremony. Another relative just told me that the couple have since asked someone else to officiate. The couple have not mentioned any change in plans to me. Meanwhile, I went to considerable trouble and expense to secure credentials required by state law to conduct the ceremony.