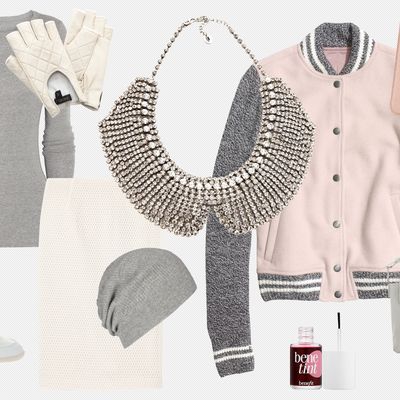 Every wardrobe needs one complete, go-to look. Each week, we invent a new one (and tell you exactly how to get it). Click on the image for a more detailed view.
The excitement of a night in the grandstand takes a glamorous turn with Madewell's soft-blush team jacket, perfect for the gal with an athletic stride — one that she probably picked up on the field from her high-school days. She's not afraid of mashing up boyish sportsmanship with girlier details, like Juicy Couture's crystal rhinestone necklace, an unassuming gray beanie, or Ash's wedge sneakers. Add Tibi's white pencil skirt and Benefit's Benetint cheek stain, just to maintain the flushed glow of a championship win.
Madewell Team Jacket, $178; Tibi Jacquard-Effect Wool-Blend Pencil Skirt, $390; Benefit Benetint, $29; Jessica Jensen Blush Ipad Case, $98; Rachel Zoe Quilted Fingerless Driver Gloves, $125; All Saints Paradise Ribbed Beanie, $30; 3.1 Phillip Lim Mini Pashli Satchel, $725; J.Crew Cotton Jersey Top, $26; Juicy Couture Crystal Rhinestone Collar, $148; Ash Bowie Wedge Sneakers, $157.