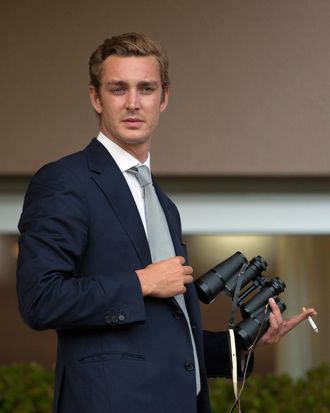 Pierre Casiraghi, on the mend.
Photo: Didier Baverel/Getty Images
You'd think that the February nightclub brawl involving Vladimir Restoin-Roitfeld, banker Diego Marroquin, and Pierre Casiraghi (grandson of Princess Grace of Monaco), businessman Adam Hock, and a bottle of Grey Goose would be swept under the rug by now. After all, Casiraghi's broken jaw (or "chin scratches," depending on who you believe) have healed nicely, allowing him to resume his normal daily activities like indoor sky diving, sailing, and watching his sister Charlotte ride horses. But the legal battle rages on: Back in February, Casiraghi filed a claim in Manhattan Supreme Court requesting money for injuries he allegedly sustained in the fray. Now Hock — who was on the other side of the fisticuffs — is striking back, denying any responsibility for the fight and seeking damages of his own.
Hock claims the trio was obnoxiously helping themselves to his vodka, and were "visibly intoxicated" before attacking him in an "unprovoked and unjustified assault." Hock also faults the club and owner, Jeffrey Jah — whose table he was seated at — for not keeping a closer eye on Casiraghi and company because he was aware of their "violent, belligerent and disruptive tendencies." Hock says he shouldn't be liable, and wants unspecified money damages for the injuries he says he suffered. Jah's arguing in court papers he shouldn't be held liable either. "We look forward to our opportunity to be heard in court," said Hock's lawyer, David Motola.
Ooh, a court appearance! Sidenote: The only thing worse than hitting someone with a bottle of Grey Goose, as Restoin-Roitfeld was accused of doing, is hitting someone with a bottle of someone else's Grey Goose. A lawsuit-worthy offense, if there ever was one!