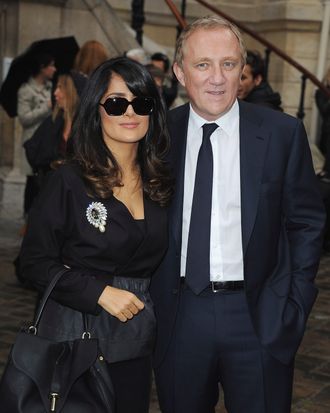 Photo: Francois Durand/Getty Images
The PPR chairman and CEO told WWD, "Hedi Slimane did a remarkable job," adding, "I totally stand by the house of Yves Saint Laurent and the decisions made by its teams or its artistic director, and I didn't appreciate that some people tried to use me by linking my name to chatter about invitations or the seating of this or that person" — likely referring to Cathy Horyn, who wrote in her Times Review That Started It All:
When I raised the invitation matter with [Hedi Slimane's] boss, François-Henri Pinault, the chief executive of PPR, which owns Saint Laurent, Mr. Pinault expressed dismay. "That's ridiculous," he said. "Journalists should be invited to shows." Quite so. But I suspected that Mr. Pinault was in a jam. Having given Mr. Slimane much authority to remake Saint Laurent, he could scarcely take it away from him.
So, is Hedi writing his talking points, too? Did Pinault correspond with WWD in Gothic font? Because we pegged him as a Comic Sans kind of guy.