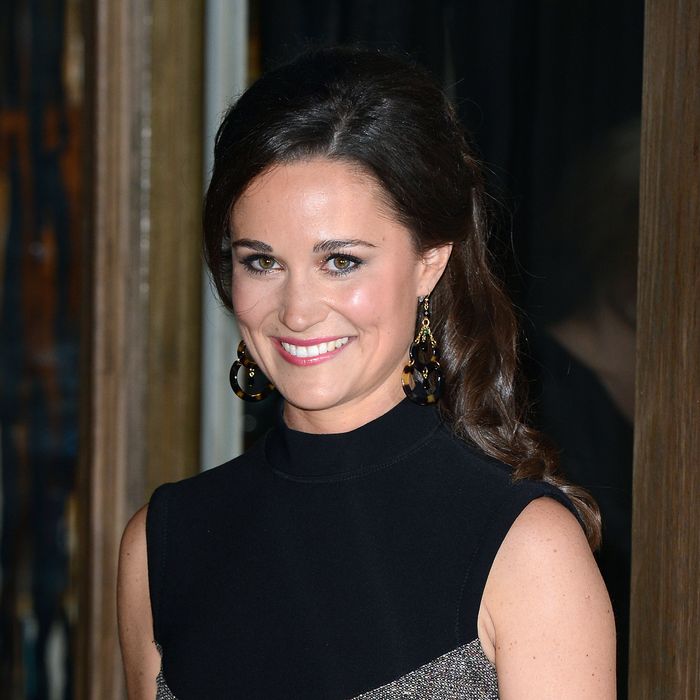 Photo: James Whatling/Splash News
British Tatler announced its 2012 rundown of the U.K.'s most eligible celebrities and assorted society folk, and look at who falls nicely in both categories: Pippa Middleton. She joins other ladies including Emma Watson and Prince Harry's ex Chelsy Davy, as well as forthcoming British Fashion Council chair Natalie Massenet and models Jourdan Dunn and Cara Delevingne (the latter trio appearing in a special fashion-centric list).
Of course, if it took you this long to realize that PMid's a big deal in the British dating game, despite her — whisper it — upper-middle-class background, well you're very late to the (well-planned) party. The ever-present paparazzi have spotted Pippa on several dates with 37 year-old banker James Matthews. Her maybe-beau is the older brother of an upper-crust gadfly well known for his participation in Made in Chelsea, a British reality TV show that's basically The Hills–meets–Jersey Shore for posh folks whose trust funds came without any clauses that would disinherit them for shaming their family name. Sure, the possibility of Pippa cameoing amid the staged madness is remote, but she does live around Chelsea, so let's savor it all the same.
And in other Pippa news, her new book, Celebrate, debuted in U.S. bookstores yesterday. If it's not dangerous for you to wade walk to your local Barnes & Noble, pick up a copy. There are lots of fun recipes you can adapt to use up the leftovers of your Frankenstorm stockpile.