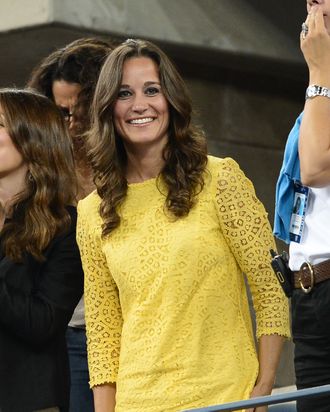 Photo: EMMANUEL DUNAND/AFP/Getty Images
Pippa's been largely out of the spotlight for the past several months, perhaps owing to that crazy dwarf-and-stripper party and ensuing gun scandal from earlier this year. That she's made herself scarce is too bad for many reasons, not least of which is that you'd think she'd be out promoting her party-planning book, Celebrate. After all, if she were a normal British socialite, she'd be free to gad around and book TV appearances as she pleased. But instead, the poor girl must suffer in the shadow of her royal sister and eschew all media for fear of blurting out the innermost secrets of her sister, or — worse yet — facing questions about Kate's topless photos.
"Pippa has been besieged with offers from everyone in the U.S. media offering her a raft of opportunities," a source tells our Hollywood correspondent James Desborough. According to that source, "Offers included being a special correspondent on shows like 'Entertainment Tonight,' as well as interviews with Ellen DeGeneres, Oprah Winfrey and Anderson Cooper … [but] If Pippa is quizzed about Kate's topless pictures, then whatever answer she gives will generate more news about the matter, and upset Will and Kate."
So she's keeping quiet out of sisterly loyalty! And also to keep the royal family from accusing her of using her sister's status to make money (so déclassé, à la Sarah Ferguson). Anyway, her book's probably doing just fine all the same.