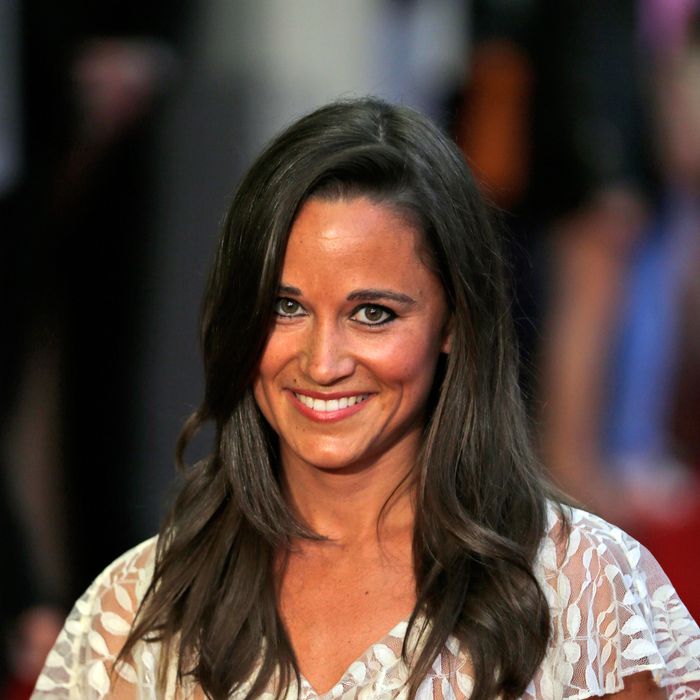 Photo: Lefteris Pitarakis/Corbis
Though Pippa Middleton is not available for any U.S. press engagements to promote her new party-planning book, Celebrate, the U.K. (and, therefore, the whole Internet) is in luck. British newspaper the Daily Mail — the same newspaper that criticized the venture — landed an exclusive first look and published a 24-page "special" pull-out supplement yesterday. Within, you'll find Pippa's tips for Halloween and Bonfire Night parties mixed in with memories of childhood parties and other celebrations (no Kate mentions so far). "It's a bit startling to achieve global recognition before the age of thirty on account of your sister, your brother-in-law, and your bottom," writes Pippa in the book's foreword. "I am by nature an optimist, so I tend to concentrate on the advantages. One of the most attractive has been the chance to publish Celebrate." To, uh, celebrate the release on Thursday, we're sharing some of Pippa's best entertaining ideas.
Pippa "frequently celebrates Halloween over a supper with friends. It's a wonderful excuse to let your imagination run riot with gory-looking food and special effects … there is no such thing as overdoing it." This means:
• Pumpkin bowling! It's exactly what you'd expect.
• Recipes galore: cheese straws, toad-in-the-hole, Devil's food cake, and "creepy cocktails" like a blackberry collins.
• Instead of carving lackluster features into your pumpkin, just leave it whole and stick a bunch of cocktail sticks with nibbles ("cocktail sausages, tomatoes, and mini mozzarella balls") on it. Or use lollipops if you care about children — you can even cover the lollies in white napkins and turn them into ghosts. 
• And if you don't care about children, just tie a bunch of donuts to strings and leave them outside for the little devils (they're in costume, of course) to bite at.
Unfortunately, the guide makes no mention of watching Hocus Pocus (shame), boozy apple-bobbing (more shame), or what happens if someone shows up to your party dressed as your sister.