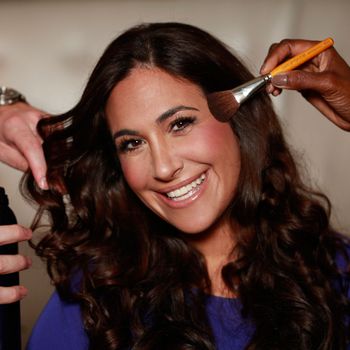 Before our first interview, Melinda Farina found me on Facebook.
"Just checked out your faccia," she wrote in a message. "Want to beautify you. U have what I have — shallow under-eye and deep nasolabial folds. I want to even things out for you."
Telling people the truth about their looks — then steering them to surgical and dermatological remedies — is Farina's bread and butter. A friend described her to me as a "beauty broker" who matches discerning clientele with high-end cosmetologists. The result, my smitten friend said, is a network akin to "the Soho House of plastic surgery." Her métier is getting clients in with surgeons who, she says, strictly nip and tuck A-listers.
"As far as my VIP clients go," she tells me, "it's confidential. But there are reports Ashlee 'Somebody' found her doctor through me. No comment there. I take care of supermodels, but much of that is nutrition, eating-disorder therapy, and corrective dentistry for eroding teeth. I have worked on the Trumps, Catherine Zeta-Jones, tons of tycoons, multiple royals. Surgeries at 1 a.m., back-door entrances, private nurses in hotel penthouses."
Farina isn't the first middleman in the field; Wendy Lewis, "the Martha Stewart of cosmetic surgery," has been doing it for decades. But whereas Lewis bills her clients upwards of $300 an hour, Farina — who describes her rival as "older and out of touch" — hasn't charged any of her "hundreds, if not thousands, of clients" a penny for her time. She just takes $10,000 a year from 226 specialists in her referral network, Integrated Aesthetics Consulting, which spans New York, Miami, L.A., Dallas, and soon Chicago.  When I spoke to Lewis on the phone, she laughed wildly at the mention of Melinda as her competitor, roaring into the receiver, "That's hilarious that she thinks so, because as far as I'm concerned, she can't even begin to understand the experience I have; not the knowledge, the contacts, nor the ethics."
A few days after our e-mails, Farina strolled into the Mondrian Soho with high heels on and hair-rollers in, a Jewish-Italian Kardashian with an ocean of energy and an entourage. But no matter how you feel about plastic surgery or women who travel with hair and makeup, in the presence of Farina, it's impossible to hate her. She's a force of exuberance, a Gucci suitcase of fun.
"Let me explain," she begins, adjusting her double-Ds in a bandage dress, "People want the truth about their appearance, and I say, 'Are you ready for it?' Then I'll create an itinerary, in order of urgency." For instance, she thinks I could tweak my nose if I wanted to look less "exotic," and that my top lip needs some pump.
Before becoming a beauty broker, Farina was a dental hygienist for a celebrity cosmetic dentist, Larry Rosenthal: "His best friend is Billy Joel, he's surrounded by beautiful people. Working on his patients' faces, I would see bad work and good work, and I would ask everyone who they went to. I'd learn who gave botched nose jobs, natural-looking Botox, great boob jobs. Who was trustworthy, who was scum. Everybody had work done, and they all had stories."
"I absorbed it all, and eventually, it became normal for people to ask me for beauty references while they were in the chair: Who's the best dermo? What about lipo? Should I do this cleanse? Soon I was sending thousands of patients to these doctors, and one day, I was like, This is bullshit! I'm referring millions and millions of business, and here I am cleaning plaque off teeth!"
Farina's business model, however, raises eyebrows. "Sure it's an attractive scenario, but you don't want someone who's taking money from doctors," frowns Dr. Steven Pearlman, past president of the American Academy of Facial Plastic and Reconstructive Surgery. "Melinda works with good names, but the top guys are in another league; they don't know her and they don't need her. Plus, I really worry about the legalities."
Fee-splitting is illegal in the medical industry, but Melinda insists that by collecting yearly membership fees, from doctors like Zdinak, she stays clean. As for digs that she's sending vulnerable patients to people she's in business with, Farina bites right back, "I work with only the best and I do not fuck around. You screw anything up on my clients, and I mean anything, and you're out of my network; I don't care what you've paid me." (Notes Wendy Lewis, "There is no exchange of money between me and my doctors. None. I'd never get involved with anything remotely 'on the take.'")
Lisa Zdinak, chief surgeon at Precision Aesthetics and a member of Farina's network, has no such hang-ups. "She's a gregarious, upbeat girl who knows everybody, so why not?" Zdinak insists she doesn't need Farina's referrals, which amount to a few per year, but "Melinda adds an extra layer of comfort to patients who are nervous. They like knowing I'm Melinda-approved."
 The convenience alone is worth it to clients like finance executive Victoria Flores: "Anything I need, I go straight to her. It's such a hassle to ask around and quite frankly I'm way too busy to figure it out myself."
Anna Rothschild, a self-proclaimed Upper East Side socialite, was "highly skeptical" when she first heard about Integrated Aesthetics. "I am photographed nightly; I can't just take anybody's advice and risk looking like a gorilla." But during their first consult, Farina impressed Rothschild with her doctor roster. "She works with all the names that my uptown friends are obsessed with. After she sent me to Andrew Jacono, and he made me look literally ten years younger, I was like: Sold." As for Melinda taking cash from these physicians? "She's making a living," says Rothschild. "Good for her."
She's also making and re-making her own exterior. "My first rhinoplasty completely changed my life," says Farina. "Dr. Sam Rizk did it — ten years ago for the primary, and two years ago I had a tip revision. Since then, I've had my lips enhanced, teeth lasered, and I smoothed out my nasolabial folds with juvederm. Ryan Nickulas enhances my hair with extensions and I'm planning on a breast lift soon. I live for my nutritionist, Robin Kaiden. Kim White does my makeup. Andrew Jacono does my fillers. Michael Apa makes my teeth pearly white. And I'm still not completely satisfied. I'd like to be a size two, but until then, suck me in and tuck me in."
"Ugly duckling syndrome," she explains. "I was always the chubby kid, girl with big nose, broken out, braces. I never felt pretty."
"To anyone who says what I do is superficial," she adds, "I say, Go fuck yourself. No one can pass judgment until you've walked in someone's shoes. You don't know how this person's life has been. You have no clue. Screw you!"
Farina doesn't have a boyfriend, even though wealthy Wall Street men are among her clientele. "They all want Botox, also the hair thing, ears, lips, extra breast tissue, too much sweating. I've had three patients who wanted penis enlargements, but I don't get a lot of penis. I mean I do — but I don't. Hah!"
"I encounter a lot of disgusting souls," she notes. "Some of these rich, mean housewives are never going to be beautiful. They have no humanity, and there's no fixing that. I just want to help good people feel good about themselves by finding them the best doctors."
When I go to shake Farina's hand to thank her for her time, I end up in a tight hug. She pulls back and gives me one last look.
"Babe, we need to talk about your bangs."
* This post has been updated to reflect that Farina's referral network has 226 specialists in five major cities.