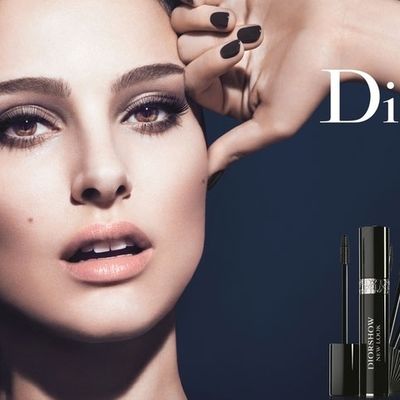 Absolutely no consumers complained about Natalie Portman's new campaign for Dior's Diorshow New Look lash-multiplying mascara. But that doesn't matter because the competition did: L'Oreal UK reported the ad to the U.K.'s Advertising Standards Agency for allegedly "misleadingly exaggerating the effects of the product." Given that the ASA just loves banning things, guess how they ruled. You will only need one guess.
Parfums Christian Dior said the ad had originally been intended to promote a lipstick, but that plans changed once they realized just how nice Natalie's eyes looked. Post-shoot, the brand's retouchers then got to work to "separate/increase the length and curve of a number of her lashes and to replace/fill a number of missing or damaged lashes, for a more stylised, uniform and tidy effect." (These edits were intended to better illustrate the mascara's full potential, Dior reps explained, because, you know, otherwise that missing lash on the top left would have just ruined the photo.) 
The ASA found no fault with the image on its own, but said that the retouching meant buyers could have had unrealistic expectations when juxtaposed with the ad's claims of providing "an unrivalled lash creator effect" and a "spectacular volume-multiplying effect" … even though they didn't, it would seem. And so the ad can't be published again until sufficient clarifications are made.