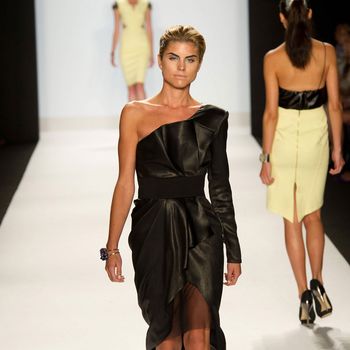 If the good people over at Lifetime are smart, they're already developing the made-for-television movie of Dmitry Sholokhov's life, because seriously, the script practically writes itself:
Shy little kid in Eastern Europe becomes a professional ballroom dancer but leaves it all behind to go to America with a couple hundred dollars and a dream of becoming a fashion designer and goes on to win season ten of Project Runway.
But we'll get to that.
Tim breathlessly announces, "Well, my wish came true!" upon learning that all four designers will be showing at Fashion Week; he goes on to tell them that they'll all need to start "shuffling the cards" of their lines without overthinking their changes. This will be very difficult for Christopher. As he rehashes Nina's criticism over a rage-fueled game of pool at the designers' hotel, it becomes clear that he's taken the feedback a bit too personally. "I've been a front-runner this whole competition! They're making me feel like they're doing me a favor by moving me forward!" Correct me if I'm wrong, but it's … nice when someone does you a favor, right? Dmitry, ever the voice of reason, pipes up, "But we all made it! Hello!"
The next morning, it's back to the workroom for two days of editing, discarding, remaking, fitting, fussing, and ennui. After a final trip to Mood, each designer begins to address the key criticism they faced from the judges: Fabio needs to make his pieces look more luxurious and expensive; Dmitry needs to push his styling to be younger and sexier; Melissa needs to turn up the "wow" factor and add a colored piece; and Christopher is in the unenviable position of needing to make a lot of changes without having any idea what those changes should be. It all culminates in a Champagne toast in which Tim congratulates the designers and tells Christopher to stop being petulant, all in one breath. I miss you already, Tim.
Then it's off to the runway for the very last time! Christopher is up first, and he has to cut the train off the gown that closes his show so his model's shoes won't get tangled (probably not what he'd had in mind when he said the theme of his collection was deconstruction/reconstruction). Aside from that, it's a pretty smooth show, if disjointed — it speaks to his inarguable range, but the lack of cohesion is a little surprising. Melissa is up next, and says her collection focuses on a new exploration of death to life, and it's clean and extraordinarily true to who she is.
That said, all four designers remarked on how big the runway seemed when they first arrived, but it was most apparent when Melissa's model had to try to inch her way down in it in a dress that wasn't cut for walking. Oof.
Dmitry introduces his collection as being inspired by organic architecture (full disclosure: I still don't understand what he means when he says this, even though he's been saying it for weeks now). It's full of the sultry geometry that Dmitry's work has been defined by all season. Finally, Fabio introduces his collection, which he's called Cosmic Tribalism. Coming from anyone else, this would be incredibly insufferable, but it's just Fabio being Fabio. The collection is really ethereal and the sense of movement is strong.
In general, I worry a bit about the presence of a guest judge at the Runway finale. Maybe it's trauma left over from a few seasons back when Jessica Simpson's praise of Mondo seemed to somehow count against him, but it seems like bringing in someone new and unfamiliar with the designers has the potential to derail the competition when the stakes are the highest. (I'm aware of how shrill and overwrought that sounds when said in regards to reality television.) That said: Jennifer Hudson is a pro. Kind, specific, and not unduly opinionated.
While it's clear during judging that Fabio and Dmitry's collections were the two favorites, it's a surprisingly warm and supportive critique all around. Melissa's far-too-short dress and Christopher's out-of-place gown are called out, but aside from that, Heidi, Nina, and Michael do everything short of passing out participant trophies and post-show Capri Suns, at least while the designers are still in front of them. Finally, Christopher and Melissa are auf'd (Christopher does some fairly unbecoming grumbling, but I'll cut him some slack since he looks like he's been awake for eleven straight days). It's down to Fabio and Dmitry — at this point, I'd be happy with either as the winner, but in the end, it's Dmitry.
"Dmitry. You have your wings now. Go and fly!" God, Heidi, are you just reading passages from my dream journal verbatim at this point? Michael congratulates him on being "a real gentleman," which is oddly touching, and, rather than having family members join him to celebrate his win, three beautiful blonde women come out instead. Like a boss, Dmitry, like a boss. Finally, Tim comes out to congratulate Dmitry and is immediately overcome with tears and has to fumble for a handkerchief. Tim's been pretty vocal in his disapproval of past winners; in a way, this seems like a win for him, too.
Click on each image in the slideshow to enlarge and zoom in on the individual looks.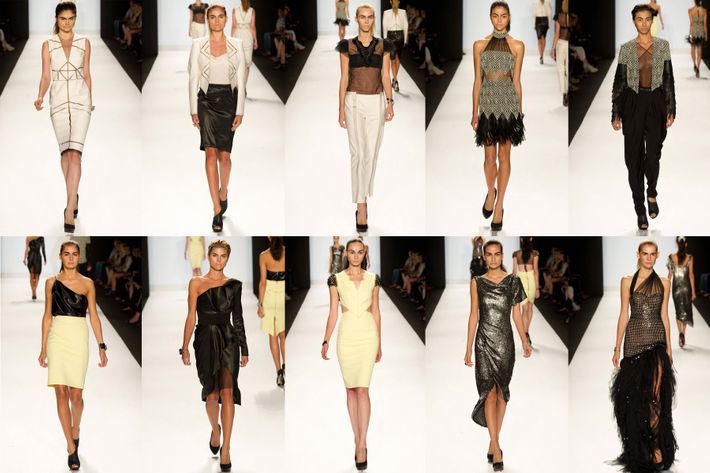 Dmitry Sholokhov — Winner
Heidi called Dmitry's work a "beautiful show" and called him a "great designer." Michael praised the impeccable quality and perfect fit of each look and was impressed by how expensive everything looked. Nina called most of the collection "highly editorial." And Jennifer, sweetly, praised the line as a chance to get to know him and said that it gave her "everything." Michael pointed out how incredible it was that Nina, Heidi, and Jennifer all would wear Dmitry's fringed jacket, even though they're three very different women with three very different senses of style.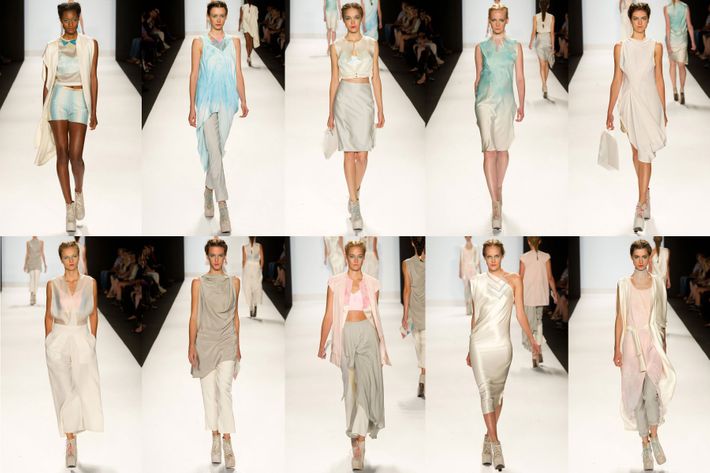 Fabio Costa
Heidi said she "loved, loved, loved it," and while that has to be great to hear, it has to be awful to hear and still lose the competition. Nina praised the element of surprise and Michael talked about how Fabio seems to have the ability to show people something in his designs that they didn't know they wanted. Michael also pointed out that Fabio managed to create something that was both conceptual and very functional. I'm imagining this collection was fairly stunning in person, but I'm also wondering — as I think the judges likely were — if this is something Fabio can repeat in new ways in other collections. I think what allowed Dmitry to edge Fabio out was how relentlessly consistent he'd been all season, but that shouldn't discount what terrific work Fabio did.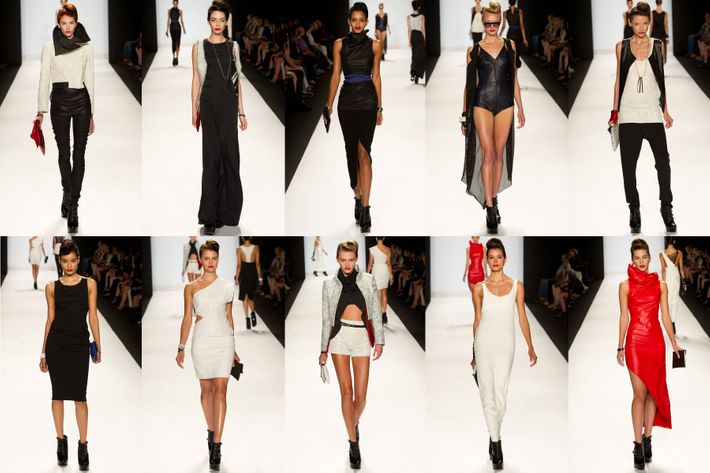 Melissa Fleis
Michael told Melissa that she really understands how a girl wants to look, because "she's the girl," and Heidi echoed that, saying that the overall vibe of the collection seemed true to Melissa's personal style and toughness. Heidi also said that Melissa had the best styling of all (true), and Nina was particularly impressed that the line was sexy without being slutty, which is, as ever, a difficult distinction. All the judges praised her taste, but couldn't necessarily see how she'd be any different from what's already out there.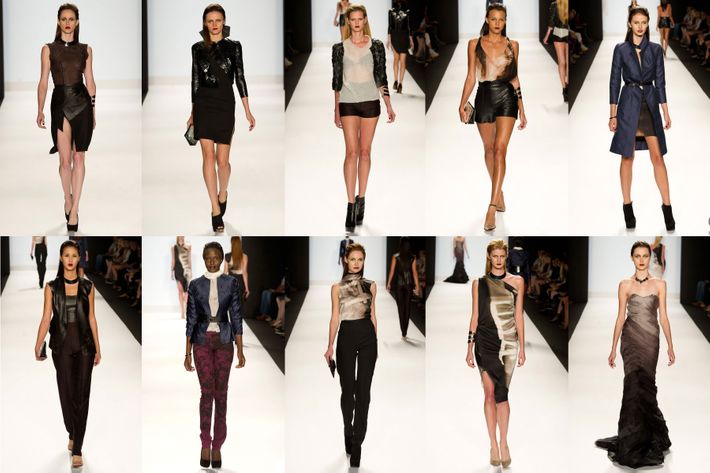 Christopher Palu
Most of the judges were surprised that Christopher went with a darker, moodier feel for his collection; he was confused by this, saying that he felt he'd been fairly dark all season. Heidi loved the range of pieces and how chic and stunning everything was. Nina praised his ability to take any fabric and make it seem light, but said that it was disappointing to not see him apply that in the bulk of this collection, since he was going for something edgier. He was the only designer who attempted to work with a new print, which was great, but made the collection feel even more as though it was all over the place.