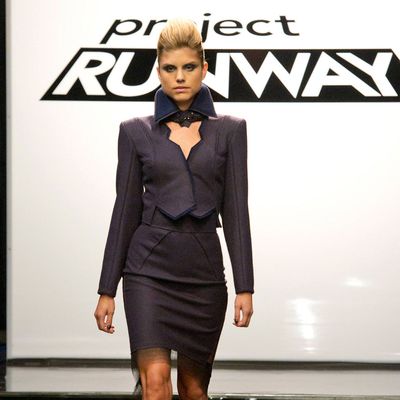 When Heidi Klum meets the designers on the runway to introduce this week's challenge, it's pretty clear that she's mainly doing so to show off her outfit (it's one part She-Ra Princess of Power and one part sparkly fish scales, plus one part glitter band aid), but you know what? If I were Heidi, I would live life as a Barbie and change clothes five times a day just because I'd look good in any of them, so more power to her. She sparkles for a second and then, almost as an afterthought, tells the designers they'll be going some place "far, far away" to learn more about their challenge.
To my great surprise, this doesn't mean 72nd Street or something; instead, the designers head to Oheka Castle in Huntington, a partial inspiration for Gatsby's estate in The Great Gatsby and, more importantly, the site of Joey Fatone's wedding! Tim and L'Oreal Paris consulting makeup artist Billy B. greet the designers, and Billy introduces them to L'Oreal Paris's new limited-edition line, Electric Fantasie. The line features four thematic color palettes (each with corresponding nail decals!): the Enchanted Queen, the Seductive Temptress, the Wise Mystic, and the Artsy Muse. I immediately debate which palette each member of The Babysitters Club would choose, which is not related to the challenge in the slightest, but please feel free to leave your theories in comments.
And it's the avant garde challenge! The designers will have two days and $400 to design their looks, and they draw buttons to see which makeup palette/theme will serve as their inspiration. Fabio gets the Enchanted Queen, Sonjia gets the Seductive Temptress, Dmitry gets the Wise Mystic, and Melissa gets the Artsy Muse. Christopher's button is pulled last, so he's allowed to choose whichever he wants, and he picks the Enchanted Queen. The designers have a bit of time to sketch at the castle, and then it's off to Mood! Sidenote: Can I just say I find it really endearing that Dmitry has his jacket tied around his waist this whole time? At this point in the season, I'm finding it pretty hard to keep my unabashed Dmitry fangirling on lock down.
Back in the workroom, Tim tells the designers that the judges are going to expect about two months' worth of work from the two days they've been given for the challenge, which causes general panic and malaise. Tim does a quick check-in with each designer, during which Fabio explains the four stages of a Tim Gunn silence: the hand on the face, the crossed arms, the little squint and head tilt, and then the bad news about your design. It's a spot-on analysis that demands to be GIFed. Before leaving the workroom for the night, Tim checks in with Sonjia and all but begs her to start working up to her potential.
The next morning, it's back to work, and everyone's rethinking his or her design, especially Fabio, who's reimagined his look by flipping the jacket upside down, which reminds him of college, when he'd wear his button-down shirts as pants. I am unclear on the mechanics involved there, but okay. Tim returns for his second critique (looking the sharpest he's looked all season, and that's saying something) and the designers' makeup consultations with Billy B. Tim is very taken with Fabio's upside-down jacket (though some of the other designers don't get it), concerned about Melissa's time management (again), and worried that Sonjia's look is veering into "student work" territory. Christopher and Tim argue over whether the big hips in the silhouette of his dress are actually avant garde or if they'll just read as a mistake on the runway, which is not an altogether unfounded concern.
Finally, finally (seriously, the 90 minute format is great when a Runway season is at its start, but the fewer the designers, the more it drags), it's off to the runway! Zoe Saldana is the guest judge, and while I'm imagining she'd hoped her appearance would promote My Fashion Database, it's very hard to understand the URL "myfdb.com" when it's pronounced with Heidi's accent. Considering that this is the last challenge before Fashion Week, it's a semi-underwhelming runway, and even though Heidi says at the outset that everyone was very impressed, the judges jeer a bit more than usual.
After the judges' critique, they give each designer the opportunity to say why they should make it to Fashion Week. Sonjia is the only one to get choked up when she describes her reasons, so while her dress was inarguably off the rails, it's very sad that she's the one eliminated. And it's also hard to see Sonjia go when she had four wins under her belt. In the past, Heidi and the judges have claimed the competition is week-to-week and not cumulative, citing the "one week you're in and then next week you're out" mantra, but the judges sat there discussing everyone's performance throughout the entire competition as they deliberated, so that excuse doesn't hold up here.
So for better or worse, our Fashion Week Four are Christopher, Dmitry (the winner of this week's challenge, and of my heart), Melissa, and Fabio. On to Lincoln Center!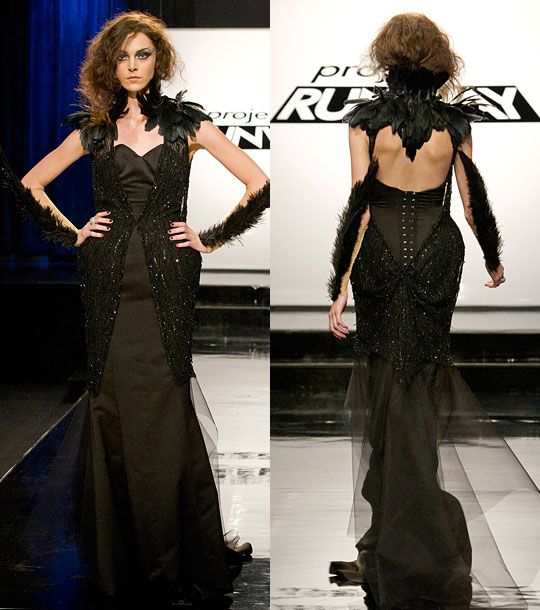 Christopher Palu
According to Twitter, this look is very "Regina from Once Upon a Time," which is a show I don't watch, but it makes enough sense based on the three to five commercials I've seen for it. All the judges liked the makeup, especially the manicure. Michael thought the look was a bit too goth/Victorian/costumey, and that the padding in the hips worked, but that there needed to be more construction in the bodice. Nina thought there were too many ideas in one design, but Heidi pointed out that a lot of the ideas were very good.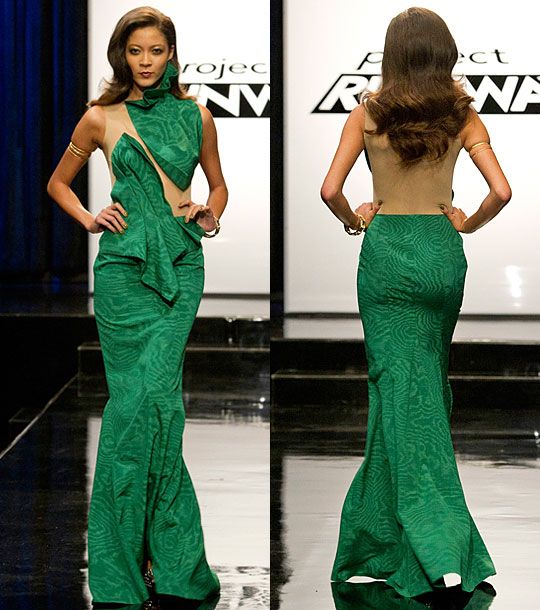 Sonjia Williams — Eliminated
It's hard not to look at this design and wonder what might have been if Sonjia hadn't left her gold lamé fabric at Mood. Heidi really stuck up for it, saying it loved the color and felt like it was red carpet ready, but wished the mesh would've matched the model's coloring a bit better; by contrast, Michael thought it looked like an ice skating costume, worn by Nancy Kerrigan as she skated through a banquet hall (points for specificity, Michael). Michael also called it the old lady's response to a bareback dress and said there was nothing avant garde about it. I couldn't really disagree with his critique; at the same time, I admire how poised Sonjia was as she defended her design. As Tim always says, this isn't the last we'll hear from her.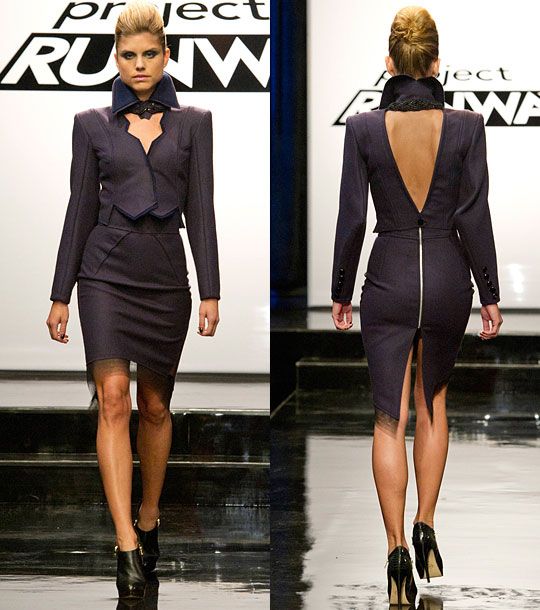 Dmitry Sholokhov — Winner
Heidi praised this look as being good from any angle, and said it presented some angles in its construction that she didn't think she'd ever seen before. I think it's pretty clear that Dmitry's technical skills are the strongest of any of the designers remaining in the competition. Michael called him a "brilliant tailor" and Heidi called it "crazy good." The only criticism all the judges had was that the detail and cut of the neck (including the bead work that looked like a tiny bat — not sure if that was intentional or not) took away from the impeccable work. As Nina said, "When in doubt, don't go there."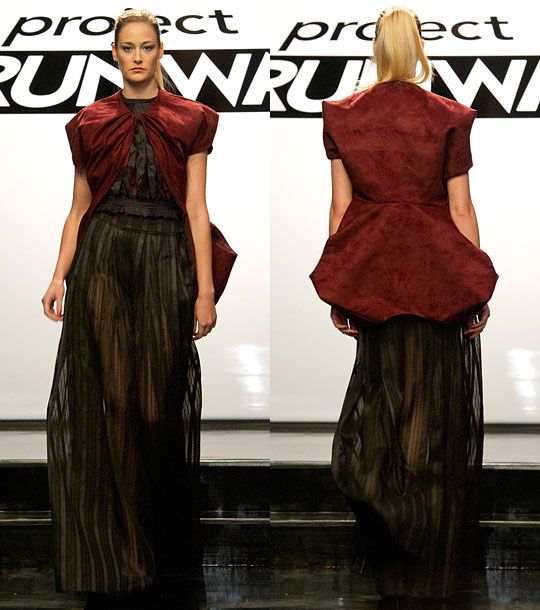 Fabio Costa
Michael called the jacket fantastic, but thought the pants were a little mom-ish. Or possibly Amish. It was hard to tell. Heidi didn't like the look at all, and said the model looked like she was going to a funeral; ultimately, she "just didn't feel the beauty in it." Nina called the jacket absolutely gorgeous, and said the fact that it could be worn as it was on the runway or upside down was genius. Saldana criticized the look as a whole for not being particularly flattering; at the same time, she seemed to really be defining "flattering" as "showing off curvature," and I'm not sure the two are always the same.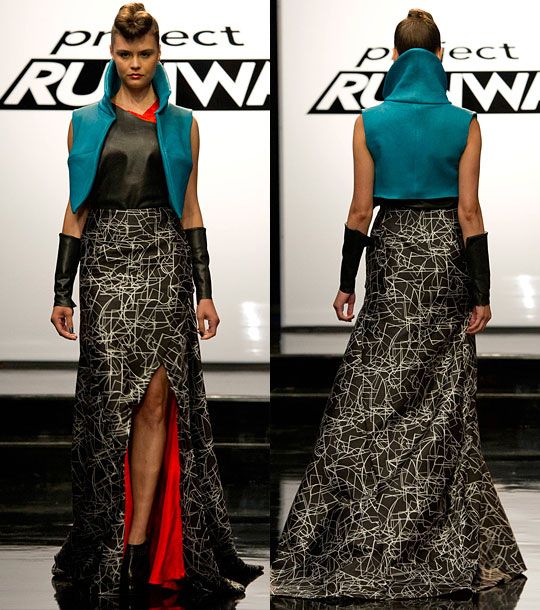 Melissa Fleis
Unsurprisingly — seriously, if Melissa doesn't end up working with Michael Kors at some point in her career, I'll be shocked — Michael loved Melissa's look. He called the idea of separates "thrilling" and praised her "hand for leather." Nina loved the drama of the collar, but wasn't crazy about the length of the skirt. Heidi, on the other hand, announced that she was shocked that Michael and Nina liked it and that she didn't know which design was uglier, Melissa's or Fabio's. Saldana loved it as well — she called it art, and very beautiful. I'm excited to see what Melissa can make once the time-management piece of the competition isn't a factor, so it will be great to see her show at Lincoln Center.