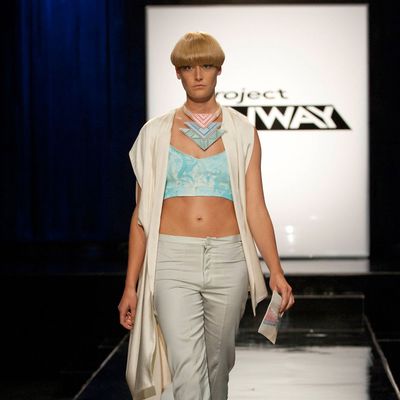 It's been a very long road (like, to put it in perspective, when this season premiered, the GOP didn't even have a vice-presidential nominee), but here we are! Heidi gathers the designers together one last time to tell them they're not guaranteed a fashion week spot; instead, the final four will become a final three, after they've gone off and designed their collections. This happens every season — though it's sometimes replaced with telling two specific designers that they'll battle it out for the third spot, which I prefer — so it's not so much a twist as something they neglected to mention in last week. Heidi also tells them that they'll have five weeks and a $9,000 budget to create their line, and Tim pipes up to tell them he'll be visiting them at home for critiques.
Tim's first stop is Christopher's house, which, adorably, seems like it's actually his parents' house. He's made a lot of progress already, and his work is pretty strong, although the collection is weirdly reliant on a textile with a print of his mother's back x-ray on it. (Tim's response: "My goodness! It's literal.") Tim pulls a skirt from Christopher's rack and says that he loves it; sheepishly, Christopher says that he thought it was ruined, since it was mainly an experiment to see what happens when you put bleach on leather. Later, the two join Christopher's family upstairs for dessert; his mother says everyone who meets Christopher has a story, which is sweet.
Next, Tim visits Fabio, who's using the apartment of a friend as a workspace. Tim immediately gasps, "Good heavens! Is this your home?" Fabio says, "Of course not, Tim. Look at me." Tim's feedback is decidedly mixed. "It is seldom that I've ever seen a collection that had as much potential for a 'wow' factor as what you're doing, but it's … undercut by a lot of these other things that are happening." It feels like he's saying that if Fabio can get it together, the competition is his to lose, but that's probably just me giving their conversation undue gravity.
Dmitry is Tim's next stop, and they meet up at the house in Jersey City where Dmitry is housesitting (it makes me uneasy that 75 percent of this season's finalists apparently can't afford homes and/or workspaces). His collection is in great shape, and Tim's only real concern is that it may be too much of the Dmitry that the judges have already seen, which Dmitry acknowledges. The best part comes when they sit on the deck — just the two of them — and drink tea out of matching cups while they have a chat. This may be the last special Dmitry/Tim moment of the season, but they'll always be having a tea party in my heart.
Finally, Tim visits Melissa at her home in San Francisco; delightfully, she calls his presence "a reward in itself." She's much more confident about her work than she ever was during the course of the competition, which is great to see. Tim ultimately tells her, "This [collection] couldn't be more you. So it's going to be a matter of taste, which you have absolutely no control over. And you wouldn't want to." Then they go on a boat ride with Melissa's whole family, and everyone talks about her childhood in their outdoor voices.
Back to New York! I become irrationally concerned about whether special provisions were made for Melissa, as she'd be the only designer potentially grappling with jetlag. The designers meet up in a properly sick suite at Yotel (complete with a round bed and an electric fireplace) and pop a bottle of champagne; Dmitry raises his glass and says that he hopes they'll all get to show at Fashion Week. I know this season has been comparatively low on drama and it's been criticized elsewhere for that, but there's something really refreshing about the care and respect these four show each other.
Tim tells them they'll be showcasing three looks to the judges the next day to determine who will make the final three. There's a day's worth of Tim critiques and fittings and selection and panic and makeup consultations (I really like how we've seen more hair and makeup this season than usual), and then it's off to the runway where the judges love some things and are "confused" by others — more about that in the slideshow. Ultimately, it's decided that everyone will move on. I love that all four designers will get to show at fashion week, but I don't love it so much that I'm going to neglect to mention that this same twist happened last season.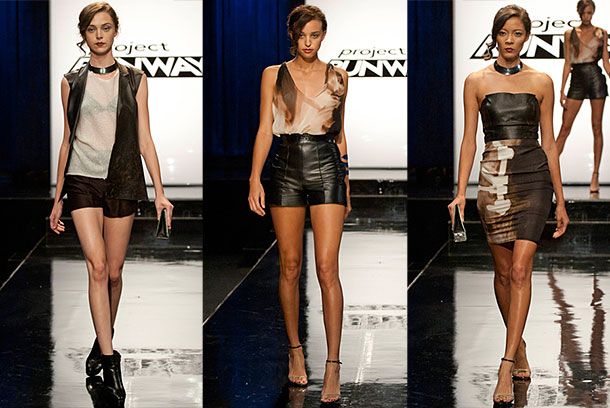 Christopher Palu
Christopher's critique was, arguably, one of the harshest. His specialty fabric was immediately dismissed as "a little creepy." Heidi liked the colors and the leather, but didn't feel like there was any "wow" factor; Michael agreed and said the volume on everything needed to be turned up. Heidi also told Christopher that he absolutely couldn't send his shorts-and-vest combination down the runway; it was simply too boring. Michael loved the prints, but thought the pieces could've been combined in a way that wasn't so banal. And Nina praised the fabrics but was surprised Christopher had gone so dark (good point) and said she saw "very little clothing" in his design.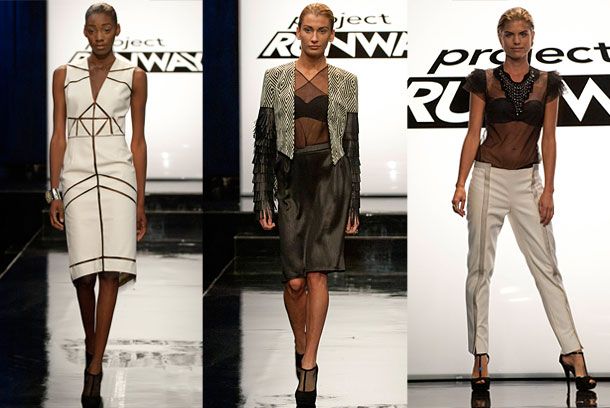 Dmitry Sholokhov
Nina's immediate reaction to the collection was that it "looked like [Dmitry] had done a lot of work," although it didn't necessarily sound like a compliment; still, she thought it looked polished and expensive. But Michael thought there was a bit too much going on, and it's a good point. Again, Dmitry was encouraged to rethink his styling — this has been all three judges' consistent criticism of him all season — in particular, Michael encouraged him to always think younger, always push for more sex appeal, and always avoid overshadowing the "wow" factor of a piece with distracting styling.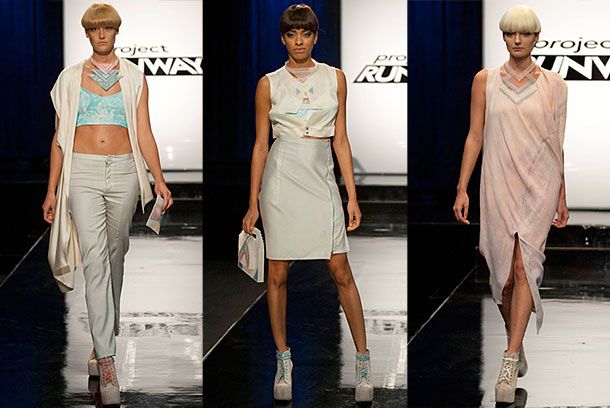 Fabio Costa
As Tim said, "They'll love it or hate it. It's a very distinct point of view." This collection is absolutely who Fabio is, and I'm fascinated to see the complete line next week. Heidi said she was "intrigued" by Fabio's collection and liked that it was different; in particular, she loved the colors and the accessories. Michael pointed out that the colors are typically thought of as very sugary, but the designs themselves aren't sweet, and he liked the tension that created. Nina said she found "some of the pieces very beautiful," but she wanted the pieces to look more expensive and luxurious, because bringing more polish to the designs would highlight the concept of the collection.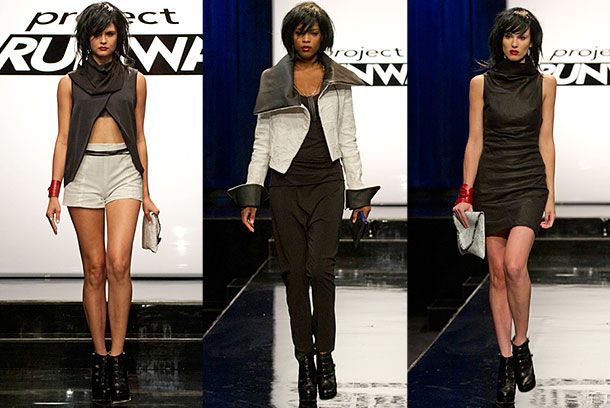 Melissa Fleis
"It's very Goth. It's very you" — Heidi's description of the collection was pretty spot-on. She went on to say that she loved the jacket (Michael did, too), but she wanted to see more of the "hero" pieces of the collection. In Michael's critique, he emphasized that they were preparing for a fashion show and asked whether Melissa had enough to make sure that every look was head-to-toe impactful. Nina asked Melissa if the whole collection was black and while, and when she said there was one red dress, Nina's response was an underwhelmed " … okay." She went on to say that she could barely see the detailing in Melissa's work, and asked how people in the fifth row were supposed to see it.