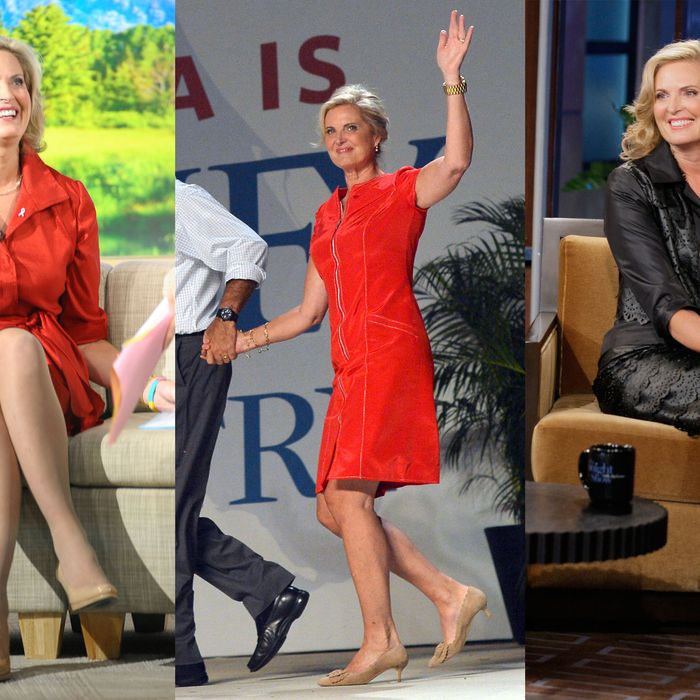 Photo: Corbis, Getty Images, Getty Images
Ann Romney has been wearing designer Alfred Fiandaca for years, but until last week, no one had identified him as the source of her campaign-trail wardrobe. "I'm not a public person," explained Fiandaca, reached by phone this morning at his atelier in New York's garment district. He didn't even know that Ann was a customer until three years ago, when she asked him to refit some of the garments she'd bought off the rack. "I told her to bring them in," he recalls, "and she said, 'Well, there are too many!'" Now that she's campaigning full-time, he often sends her clothing while she's on the road, including the red shirtdress she wore today on Good Morning America. "She just calls me up and says, 'I need a dress for such-and-such,' and I send her some sketches."
Although Fiandaca says Ann doesn't need any guidance when it comes to style, Mitt's preferences are often a factor. "He likes a waistline, and he likes her to show her figure off. He's always staring her up and down and smiling," he said, recalling a time when he bumped into the couple shopping at his Palm Beach store. As for Ann's Mormon faith — and temple garments — playing a role in her clothing choices, Fiandaca says he's unaware of any concerns, but added that she did just order a strapless evening gown. "I haven't seen her in it yet," he said. "Maybe when she gets to do more festive evening things we'll find out."
Read our full Q&A, below.
When did you find out that Ann Romney was planning to wear your clothes on the campaign trail?
She called a salesperson in Boston to talk about some clothes she'd had for a while that needed to be refitted. That's when I realized that she was a customer. We knew one another, but we never knew one another in a business sense. That was probably about three years ago, and we've been working together ever since.
How did you first meet her personally?
I don't remember exactly where it was, but we met at some social event and then kept bumping into one another. It was in Boston, about fifteen or twenty years ago.
How many of your pieces does she own?
Probably about fourteen or fifteen in total. When she called, we said, "Well, bring them in and we'll gladly refit them." And she said, "Well, there are too many." So I went to her house in Belmont, [Massachusetts,] and I was flattered and surprised that there were so many of them. 
Why do you think Ann likes your designs so much?
I think it's because my clothes are clean and classic.  I have always said that a man wears a suit for seven to ten years, so why shouldn't a woman be able to? If you're spending good money for an outfit, then there's no reason you wouldn't wear it again and again. This morning, she was on Good Morning America wearing my shirtdress that we've had for a while. She's worn that several times on the campaign.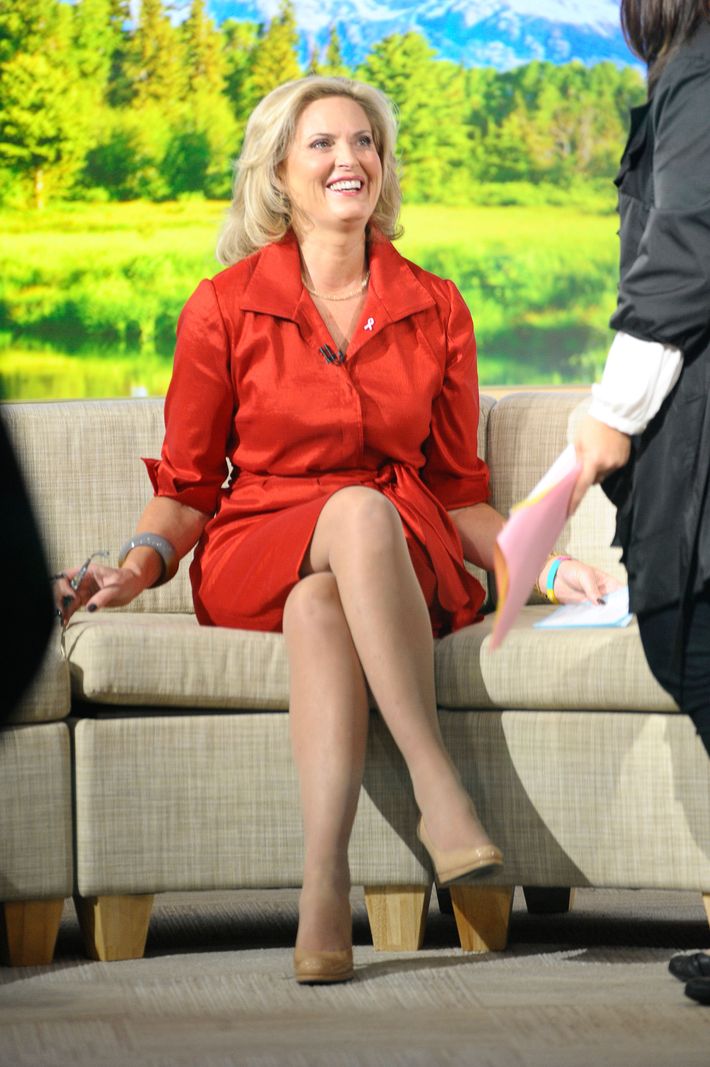 Does she consult you on the campaign trail?
We talk often, yes, when she's looking for an outfit — I just send her sketches of what's in the ready-to-wear line and she picks it. I recently sent her a zipper-front dress that she's worn. She liked that so much that she has it in turquoise as well as red. That's one of Mitt's favorites.
Do you have any favorite pieces that she's worn?
I love the white suit [she wore at the debate last week], and there's some new ones coming up that I really like. You'll see them soon — there's a patterned jacket and skirt in silver gray and black. And another one is red and black with a leather-looking jacket and a pleated skirt. And then, of course, I loved the one she wore on Jay Leno. That was one of my favorites. I was surprised at her selection.
That was one of the most risky pieces she's worn.
Edgy, yeah! But I think that's her! Every now and then she likes to have fun.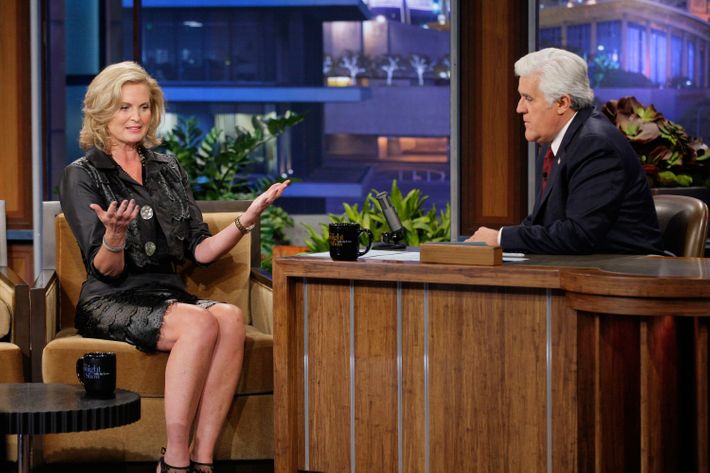 There's been some discussion about Ann's religion affecting what she wears, particularly since there's a Mormon custom of wearing temple garments. Is this something you're aware of?
No, I've been ignorant to that. No one's ever said anything to me about that. She's never said, "I can't wear that because my church won't allow it or my religion won't allow it," so I honestly don't know. Most of my clothes that she owns are suits, which are generally covered up. And when you're campaigning, you generally don't wear something plunging or strapless, so I have no idea.
Maybe once you make some evening clothes you'll get a better idea.
Oh, well, wait a minute! We did do a strapless dress with a jacket and it had a lace insert. She ordered that. I haven't seen her in it yet. I should ask her what happened to it. Maybe when she gets to do more festive evening things we'll find out.
How does Mitt prefer her to dress?
He has very definite tastes. He likes a waistline, and he likes her to show her figure off. He's always staring her up and down and smiling. They're like two kids who just met. They're really adorable.
Does he ever go shopping with her?
Yes, once we met in the Palm Beach store briefly. He came into the store and said, "I want her to wear that." Actually, he picked out the dress he wanted her to wear when she introduced him at the RNC. It was a zipper-dress, in red, and he bought it and paid for it himself and gave it to her as a gift. But then it got nixed by someone, I don't know who, and she ended up wearing Oscar de la Renta.
You've dressed a number of politicians' wives. Why is that?
I'm really, deeply flattered and humbled by it. I've made clothes for Mrs. Reagan, Mrs. Johnson, and Muriel Humphrey, and Kitty Dukakis, as well as the Kennedys. I guess it's because I like clean, classic lines and clothes that aren't of the moment. You could wear one of my suits in ten years or twelve years and it's still good.
Have you ever custom-designed something just for Ann?
Not as of yet, no.
How would you contrast her style to that of Michelle Obama's?
I'm not a political person so I don't want to get into that. I will say that Mrs. Romney is very interested in wearing clothes by American designers made in America. Not just American companies that are made in Taiwan, but made in America. And all of my clothes are made in Boston or New York.
Most designers will send out a big media blast whenever a public figure wears their clothes. Is there a reason you don't do that?
Yes, that's not my thing. I'm really very happy doing what I do and being appreciated for what I do, but I'm not a public person.
I understand you're not a very political person either. Your publicist described you as "apolitical."
He's right! I vote for the man, not for the party.
Are you going to be voting in this presidential election?
Oh, yes, indeed! And now I'm getting into politics — but I mean, if [Obama] hasn't done it in four years, what makes you think he's going to do it in the next four years? In the past six months, he's come out and said all the things that liberals would like to hear, but has he done anything about it in three years? No. All of a sudden he's into gay issues, and into women's rights — but where was he three years ago when it came to those things?
So it's safe to say you'll be voting for Romney.
Yes. Here I am, sounding like a politician. But I just go with my gut, and I know this man, and he's funny and he's an honest person. He's not someone who's just giving us B.S. and telling us what he thinks we want to hear. Yeah, this abortion issue offends me. However, I don't really think that's him in his heart, and it may be just the Christian right pushing him, but once he gets in, he'll be the man he is and true to himself.
Related:
Ann Romney's Go-To Outfitter: Alfred Fiandaca
Ann Romney and Michelle Obama's Debate Outfits: An Analysis 
 Dressing to Stump: Ann Romney's Campaign Style