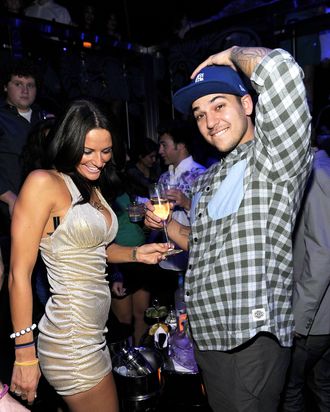 Photo: Denise Truscello/WireImage
Always. And that is why he created a collection of men's socks, called Arthur George, to be sold at Neiman Marcus come November 9. Hold up … Arthur George? Not the R. Kardashian Sok Kollection, or Sokzdashian, or something else super-obnoxious sprinkled with plenty of unnecessary k's? WWD writes:
He said the name of the line is a blending of his own middle name, Arthur, and his father's, George. "I wanted to stay away from using my last name," he said. "The label still says it's by Robert Kardashian, but I'm more comfortable if it doesn't scream Kardashian at you. We don't have to overkill everything but, at the same time, you can't get away from it. And Arthur George sounds classy."
Honestly, all I could do was count the number of k's or k-sounds in that quote. I retained nothing else. Anyway, I just now read that the socks are 100 percent Egyptian cotton, and priced at $30.