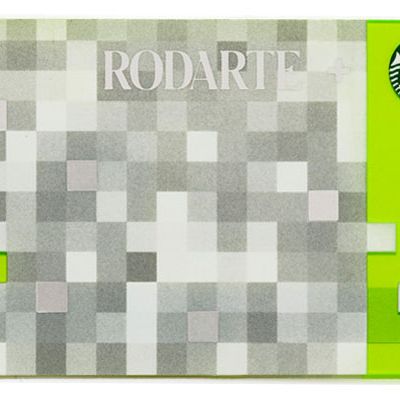 Rodarte for Starbucks.
Photo: Rodarte/Starbucks
Kicking off this holiday season's mashup of random collaborations: Rodarte for Starbucks, available starting November 13. The label has designed a limited-edition collection of gift cards, coffee mugs, tote bags, and cup sleeves with a pixellated green print, marking the coffee chain's first-ever partnership with a fashion brand. Samie Barr, vice-president of Starbucks's category brand management, tells the AP that they're hoping Rodarte can help "[put] us on the map as a true inspirational gifting destination."
And why did Rodarte want to do this, being such a specialized indie label and all? Designer Laura Mulleavy explained that the partnership came easily because she and her sister Kate are daily coffee drinkers. Also:
We felt we had a broad audience of customers. We look for unique and differentiated, not necessarily looking for 'mainstream.' … People buy with their eyes.
People also buy when they are undercaffeinated, late for work, and just remembered that they forgot to get their cousin/sister-in-law/assistant a Christmas gift.