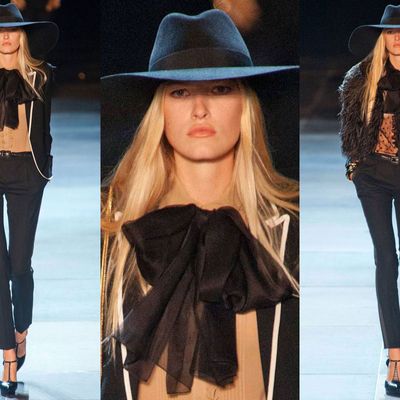 Before Hedi Slimane's much-hyped Saint Laurent debut in Paris, the designer cast a handful of relatively unknown models as exclusives and worked with them daily during the weeks before the show. One of these girls was Louise Parker, a Minnesota native who graduated from Bard College last May with a degree in photography. Street-scouted while she was still in school, Parker hadn't walked a single runway in her life until this season, when she signed with Marilyn at the beginning of New York Fashion Week.
Parker was cutting her teeth on a few relatively small gigs in New York — including Peter Som, VPL, Osklen, and Hache — when her agent told her to get ready for Paris. Barbara Nicoli, the casting director for Saint Laurent, had seen a video of Parker and wanted her to meet with Slimane. "I was told to either pack for a day or for three weeks, because depending on how the meeting went, I'd either come back home or stay," Parker said. The meeting was a success, and she became part of Slimane's team for the next several weeks, eating family-style meals in the office and working with him every day. Read on to learn about why Slimane chose Parker, what it was like to work with him, and how it felt backstage at that infamous Saint Laurent show.
How did you get started with modeling?
While I was in school in the Hudson Valley, I did a little bit of modeling — but it happened randomly. I was street-scouted for Ryan McGinley, and I did a trip with him, and a couple of shoots. And through Ryan's agent, Shea Spencer, I met the photographer Roe Etheridge, and I did a couple of shoots with him. So when I graduated, I looked into signing with an agency, found Marilyn, started with them about a month ago, right at the beginning of New York Fashion Week.
How did you wind up getting cast for Saint Laurent?
Honestly, I'm not exactly sure. My agent took a video of me walking, and sent it out to a few clients, and Saint Laurent was interested. I met with their casting director, [Barbara Nicoli], in New York during New York Fashion Week. She liked me, and set up a meeting for me to go to Paris to meet with Hedi.
What was your actual meeting with Hedi like?
Those kinds of meetings are always really brief, because they're seeing 50 girls a day. I just went in and I walked for them, and they put me in the Saint Laurent shoes, which were crazy. I don't have much experience walking in heels, and these were difficult to walk in. Hedi told me that I had a pretty bad walk, and that I needed to work on it, but he was really nice about it — he said, "Oh you're great, you'll work for me, but your walk really needs some help." And then I started working with them three days later. I was so, so excited when I found out they'd chosen me. I would have felt really defeated if I had gone all the way there and then had to come back to New York the next day because it hadn't worked out.
What was it like to work with Hedi leading up to the show?
They initially told me I would have a week off before I started working, but then called me three days later to say that they needed me to come to the office to shoot looks. They just had me trying on the clothes so they could figure out which skirt goes with which blouse, and stuff like that. So up until the show I was working every day, shooting looks and doing fittings. A lot of modeling involves waiting around — sometimes you're just sitting for hours waiting for someone to tell you what to do.
Did you interact a lot with Hedi?
All of our meals were eaten together, and we got to talk to Hedi a lot — he took the time to get to know the models. There were three other models who had been there for even longer than I had, like a month.
What do you think it is about you that made him cast you?
I know that Hedi likes American girls. He lives in L.A., and he loves that L.A. look. Most of the other girls who were exclusive were American. I also know that he loves long hair and I have very long hair. I think he also can see personality and if someone has a good attitude. I don't know exactly why I was chosen but I was happy that I was.
Did you have to keep it a secret that you'd been cast?
I did. But before I went, I was confused and didn't know that it was supposed to be a secret. So I told a couple people that I was going, like my family and a few of my friends. But then we had to sign a confidentiality contract about everything. We weren't allowed to take photographs or tweet or Instagram while we were at work.
Was it hard to keep it a secret all that time?
It wasn't that hard. I understood why he wanted that, and I respect that it's his creative process and he wants to have control over the end product, which makes a lot of sense. I respected that.
Did you get to keep any of the clothes?
No, I wish — especially after trying all of the clothes on and seeing them every day. I loved them.
If you could have kept anything for yourself, what would it have been?
One of the leather jackets. I've always been looking for the perfect leather jacket, and he definitely made them. The dresses were also super fun, but I don't know when I would be able to wear something like that.
What was Hedi like on the day of the show?
I was expecting him to be really high-stress, or really nervous, but he was always very consistent with his attitude. He never got catty or angry or anything. He was really calm and positive and sweet.
How did your problematic walk end up?
Good! I think I nailed it. But I had so much time to practice, and I had one of the other girls take some time to teach me. And I was able to walk the runway the night before, like seven times or something, because they were checking lighting. The turn at the end was kind of weird, and I'm still not sure if I did it right or not. But I didn't fall, which was my biggest concern.
What were the shoes like?
They were really simple platforms with a tall, skinny heel. I'm not sure how high they actually are, but they felt like they were seven inches tall. In the end, I was really comfortable walking in them, but when I first tried them on, I was like, "There's no way."
Do you think that your photography degree helps you with modeling?
I think it does. It definitely makes me more interested in what I'm doing, and being able to work with photographers that I respect and admire has been a really cool experience. But I'm still trying to figure out what my photography has to do with their photography. It's really different, because I was never really interested in fashion photography.
Do you feel like this experience has opened a ton of doors for you?
I hope so. I'm still figuring out how the whole modeling industry works, and part of is just getting used to not knowing what's going to happen next and how your schedule will work the next day.