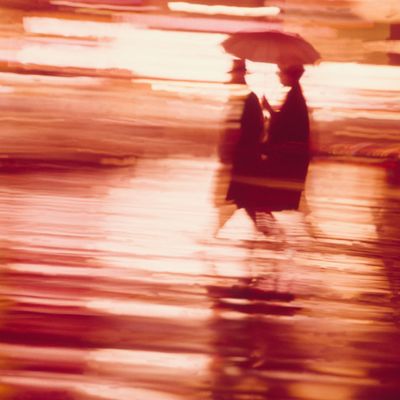 Photo: Gary Gladstone/Corbis
As New Yorkers emerge from their homes in the wake of Hurricane Sandy, they find themselves with messes to clean, power lines to repair — and new sex partners, the inevitable outcome of a citywide event involving darkened apartments lit only by candles. Seven hurricane lovers tell their stories.
1. Rising Libidos Beneath a Falling Crane
Rafaella, 38, midtown west
I was on my way back from a business trip and made it home to my husband just before the airport shut down. Then the crane collapsed in Midtown — we live right there, almost below it, so it was all very intense and we just started having, like, nonstop sex. Feral. We've had sex six times in 24 hours, and we're not done yet. [Ed: Interview conducted Tuesday morning.] For us, Sandy has been super-unproductive and, though I feel bad saying it, super-fun. Being near the crane was weird, scary, and exciting. We normally do have a lot of sex (at least once a day) but this was a lot for us.
2. The Female Player Who Never Left Home
Lilly, 31, Prospect Heights
At home in my sweatpants on Monday afternoon, I did my normal site checks: JDate, OkCupid, crushes on Facebook. Then I got a Coffee Meets Bagel alert about a guy asking "for a second chance," because I'd ignored him the first time around. He was a 35-year-old Pisces, pretty cute, so this time around I "liked" him. His name was completely unpronounceable, but we connected over text and started flirting. Meanwhile, I'd struck up a Facebook chat with a TV actor I've pathetically tried to chat with in the past. Normally he ignores me, but I guess Sandy made him really desperate? We made a date to meet in person soon.
Then, while juggling those two, an unknown number called my phone. Because we were mid-emergency, I picked up, but it was this random Jewish doctor from 'Cupid who tried to convince me he was monitoring the storm for the New York Fire Department. He was trying to be macho, but I didn't like the tone of his voice, so I made an excuse and hung up. By then the storm was picking up. If he really was important as he said, then it seemed like an inappropriate time to flirt?
Throughout the night I got sexts from exes, friends with benefits, and sexy Brooklyn stragglers. You know the type. Example: "Why didn't we spend the whole day naked?"
But even if I could have left my apartment, I wasn't exactly feeling my sexiest. Having eaten a tub of Swedish Fish and another of chocolate malt balls, I was having a nice time on my couch. So I put the phone down to focus on the news, but within minutes, I was Googling the statuses of two cute meteorologists. For the record, Phil Lipof is married but amazing at his job, and Jeff Smith is, according to some gay website, "allegedly" straight, six foot six, and engaged.
Today, in the calm after the storm, I'm supposed to have a date with a real-live person who I met at a party. But I kind of feel like canceling and staying home.
3. The Storm Sex Reject
Tess, 26, Fort Greene
My hurricane sex consisted of a text message exchange with a man who, the first time we kissed, told me he loved me. At 2 p.m. on Sunday I texted, "do you want to hunker down for the hurricane??" At 8 p.m. he replied, "no i am going to bed." Then I discovered the website HeTexted.com, and spent the rest of the night drinking silently and steadily while reading every single one. At 10 p.m. I deleted his number from my phone. I guess a hurricane is as good a test as any. But still.
4. The Storm Sex Relationship Test
Maria, 28, Williamsburg 
I'd been dating a guy for a few weeks when Hurricane Sandy presented itself as the ultimate relationship stress test. Would I be able to stand him for more than 24 hours? What if he likes different junk food than I do? The experience would either bond us for life, or drive us to stir-crazy murder.
Sunday night was stay-at-home bliss, savory foods and several sex acts. On Monday we telecommuted side-by-side. Then, as night fell and I polished off another beer, urgently I realized that the Hurricane Relationship Test is not about candlelit sex or reconciling boredom. No, it is about poop. I had lasted 24 hours without pooping, and my intestines were scrunching up with rage — I had to poop, but trapped in close and romantic proximity to my hurricane lover, there would be no sneaking away, no pretense, no fig leaf to hide behind while I vacated the contents of my behind. My hurricane lover was going to know that I pooped.
Frantically, I messaged female friends for support. What if the pipes burst at that exact moment, and I can't flush? I asked one. I consumed so much beer, what if it's a noisy poop? I fretted to another. One by one, they chastised me for setting women's liberation back with my shy bowel. And so, extracting myself from my hurricane lover's arms, I steeled myself for one of the more anxiety-inducing poops of my life.
Just then, I received a message of brilliance. Say you need a shower, then turn the water on and poop. Which I almost did, for the possibility of super-sexy wet-hair post-shower sex, alone. But I also have this fear of being electrocuted by lightning while showering (it can happen) so instead I just pooped, then returned and fooled around some more with my hurricane lover. Then we played Scrabble.
The result was a domestic comfort I had not anticipated. I could imagine my life with this man, now. A life relaxed enough to poop.
5. Too Drunk to Fuck
Paul, 34, Greenpoint
On Monday, I was helping out at my local bar in Greenpoint, because their regular guy couldn't come in. I invited a bunch of friends to booze through the storm, including this one lady friend I've been wanting to hook up with. I figured, why not? Since I was behind the bar, I kept refilling everyone's drink. She was having whiskey. The storm was at its height around 10 p.m. and we all just resigned to getting really, really drunk. Around 1 a.m., we went back to her place because it was closer. I'd love to say we fucked our brains out, but the truth is, I was too drunk to do the deed. So we did it Tuesday morning. The sex was pretty good, but she's kind of out of my system now.
6. Thunder Bolts and Ex Sex
Skye, 36, Cobble Hill 
A few years ago, I had a really intense relationship with a successful musician. Ridiculous sexual chemistry. But he was always on the road, so it fizzled after a few months without any drama or hard feelings. The sexual connection never went away, though, so every now and then, when the stars align, we meet up and have these incredible nights of passion.
Sunday was one of them. Out of the blue he texted, "Let's storm it out together." I thought about it for about six seconds, then bundled myself up and took the subway over, just before the MTA shut down. He cooked dinner and opened a bottle of red. We laughed like crazy and couldn't keep our hands off each other. That's what we do; there are no strings attached and I like it that way. We attempted to watch The Five Year Engagement but kept having sex instead. Around 11 p.m. we left the house to look for ice cream. The air felt so strange and sinister — kind of perfect for two people like us. We kissed on the street. We were smiling. It was blissful. Early Monday morning, before the sky got too crazy, I gathered my clothes and hopped in a cab. I needed coffee and a shower — and to leave the fantasy and check in with reality.
7. Love Between Two Hurricanes
Clark, 26, Williamsburg
The first text came on Sunday night, exactly 24 hours before Sandy came ashore: "Are you nostalgic?" I had almost forgotten: I met my boyfriend during Hurricane Irene.
When you're in a relationship in New York, people always ask how you met. Discussing our anniversary plans, meeting each other's co-workers, getting drunk on gay pride — it's the easiest detail for an outsider to ask about, to get a sense of who we are and what's between us. Single friends seem especially determined to repeat our story. Maybe it's for their own benefit: They feel like they've already met everyone in this giant city and need new meet-cute opportunities.
That we met during Hurricane Irene is something that a handful of friends and acquaintances remembered faithfully enough to text us about during Sandy, beyond the usual "Are you both okay?" I had introduced myself to him at a party — a hurricane house party that happened only because we were all stuck in Brooklyn when the subways closed. A friend had to cancel a birthday party at a Manhattan club, so he invited pals (like me) and relative strangers (like my future boyfriend) to his home for alcohol, drugs, and the sort of Irene fear-mongering that seems silly now that Sandy has passed. The first photo I have of my boyfriend is from this party, when he stripped to his underwear for a Polaroid full of birthday balloons.
My friends remember this story, I think, because it's one of those cheesy moments that's made for wedding toasts, Rachel McAdams movies, or "Modern Love" columns. Before this latest storm hit, one friend jokingly complained to me about having to work; she wouldn't have time to find a hurricane boyfriend. Another told me about having "lots and lots of blackout sex" with the new guy he's seeing. I wanted to be the Patti Stanger of hurricanes. Shouldn't I have advice to share on turning these stormy moments into actual love? But there's nothing to say. We could have met anywhere. The only difference is that people joke about our meeting, and maybe, hope to make it their own. Because with each new storm, the fun is in the anticipation.